This article is more than 1 year old
Hyperconverger Nutanix gobbles Netsil
No, it's not a laundry detergent... it's a microservices flinger
Nutanix is gobbling Netsil, a startup that develops tech for the discovery, mapping and management of microservices in distributed cloudy spaces.
San Francisco-based Netsil was founded as Gencore Systems in 2012 by Cam Nguyen, CEO Harjot Gill, COO Shariq Rizvi (ex-Twitter), and chief architect Tanveer Gill. To date, it has received $5.7m in initial funding but Nutanix hasn't said how much it is paying for Netsil
Sunil Potti, chief product and development officer at Nutanix, claimed in a prepared statement:
"Netsil, which can be consumed as a cloud-based service... when combined with Nutanix Enterprise Cloud OS software, gives both devops and IT teams the power to quickly deploy and operate applications with confidence, in any cloud, at any scale, while ensuring reliability, performance and security."
So why is Nutanix making this move? It builds hyperconverged infrastructure appliance software which itself provides a system customers use to run applications. Today these are largely virtualised but they are becoming containerised as sets of microservices.
These containers form and reform dynamic chains as they are instantiated and run and interoperate. Where a virtualised application might use 10-50 VMs, a containerised one could use 25-100 microservices, or even more.
Diagnosing and fixing a misbehaving containerised app is far more complex than problem fixing at a VM-level. Netsil provides a way of automatically mapping the containers and their interactions, and wants the world to compare it to a Google Maps for cloud apps, one that helps alleviate performance bottlenecks.
Auto-app mapping by Netsil's Application Operations Center (AOC) technology builds a topology map that lists all internal and external services, and inter-service dependencies. It can monitor particular signals for service health using real-time metrics from the entire application stack.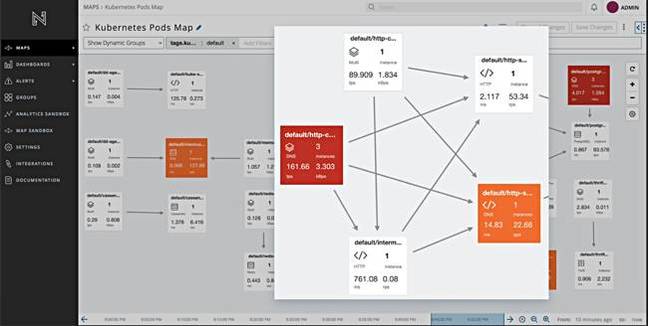 Netsil microservices topology map. Click for larger version
The technology requires no code mods to existing apps and nor does it add any performance overheads, Netsil has said.
System reliability and dev/ops engineers can use the AOCs auto-discovered maps and analytics for incident response, capacity planning, deploy management, and helping to deliver uptime and performance service levels.
For Nutanix, looking at a future with micro-services operating in its Enterprise Cloud OS software environment, Netsil gives it microservices application mapping, performance management and problem fix help.
The offer for Netsil comes after Nutanix recently agreed to buy Minjar, with its technology providing costing information for workloads running in public clouds. ®