The Church of Scientology, founded by sci-fi author L Ron Hubbard, is set to start broadcasting its own TV programmes tonight.
The Scientology Network is due to start broadcasting on Roku, AppleTV, FireTV and the Apple and Android app stores at 8pm Eastern time (or midnight for UK viewers).
The network's website and Twitter channels both have ominous-looking countdowns to the big launch, which is timed to coincide with the day Hubbard was born, 13 March.
The controversial church is derided as an unscrupulous commercial operation - rumours abound that Hubbard set up Scientology as a religion so it would be tax-free, while members must pay part of their income to the church and reportedly get a finder's fee for recruiting newbies. A 2014 estimate valued its assets at $1.2bn.
It is also accused of much worse practices - including coerced abortions and turning people against psychiatry - and of silencing dissent with harassment and lawsuits, and has been the subject of many documentaries, investigations and exposes.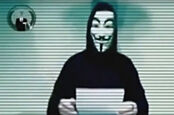 John Sweeney: Why Church of Scientology's gravest threat is the 'net
READ MORE
At the other end of the spectrum, the doctrine itself - y'know, the old story of the evil alien leader Xenu that drops billions of creatures into volcanoes, whose souls wander the earth and attach themselves to humans, who have to rid themselves of these thetans to combat negative emotions - makes it a prime candidate for piss-takes.
So it's perhaps unsurprising the church has decided to discredit the, er, messaging tech* of South Park by launching its own network (after all, no one likes the truth getting in the way of a good story, do they?).
It isn't clear what content the network will broadcast, or whether the church's millionaire and celeb backers – including Tom Cruise, John Travolta and Elisabeth Moss – will make cameo appearances to tell you how to use an E-meter to test your thetan levels or explain why the church has to go to court so much.
Instead, the promo material is a short video saying "The only thing more interesting that what you've heard… is what you haven't" over the top of images of cruise ships and the church's spangly LA HQ, followed by the word "Curious?".
There are also countdown timers all over the account pages, which El Reg presumes is simply to the channel launch, rather than something more ominous. ®
*The Dianetics glossary likes to call everything tech when it is, um, not tech.