This article is more than 1 year old
Stock trader gets two years in prison for pumping up with Fitbit
Using wearable to get wrong kind of gains get Big House visit
A US stock trader has been sentenced to two years in prison for running a pump and dump operation involving wearables vendor Fitbit, albeit one that earned him only a few thousand dollars.
Robert Walter Murray was given the federal prison term after pleading guilty to one count of securities fraud. He had faced a maximum of 20 years behind bars.
Last November, Murray admitted to running a scheme to artificially inflate the value of Fitbit's stock in November 2016 by filing a fake report with the SEC that said Fitbit was considering an acquisition offer from a Chinese investment firm called ABM Capital.
Murray went so far as to set up an account with the SEC's EDGAR document filing service, claiming to be an officer with ABM. From there, he filed a document claim that ABM was offering $12.50 per share for Fitbit, which was at the time trading for $8.55.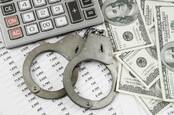 Wow, someone managed to make money on Fitbit stock – oh, 'fraudulently'
READ MORE
After the "acquisition" offer became known, Fitbit's stock price jumped to $9.27, allowing Murray to sell his shares for a tidy profit. It is estimated that the scam caused Fitbit's market cap to temporarily jump by $100m.
"Robert Murray manipulated the market in Fitbit stock by making a false filing with the SEC about a tender offer," said US Attorney General Geoffrey Berman, whose office had prosecuted the case.
"Hoping to take a quick profit from trading in Fitbit stock options, Murray's attempt to game the system has instead earned him a federal prison sentence."
In addition to the two year prison term and two more years of supervised release, Murray has agreed to forfeit $3,914.08 he made from the stock sale. He also still faces a civil suit filed by the SEC.
The Friday sentencing of Murray was overshadowed by another high-profile financial fraud case. Martin Shkrelli, the notorious "pharma bro" was given seven years behind bars after he was convicted of securities fraud. ®