This article is more than 1 year old
Finland government buys a slice of Nokia
Moomins and Lordi on the board? It's in the national interest!
The Finnish government has snapped up 3.3 per cent of Nokia Corporation in a bid to shore up national ownership.
The €844m move by government-owned Solidium Oy will see Finnish hands exerting more influence on the networking specialist, something that unkind observers might suggest should have happened some time ago.
Solidium's CEO, Antti Mäkinen, told Reuters, "We believe that this will be a good investment. One must remember that Nokia is Finland's largest company and its Finnish ownership has been rather thin."
Between 1998 and 2007, Nokia was responsible for nearly 4 per cent of Finland's annual GDP, while also being responsible for 30 per cent of the nordic country's research and development spend and some 20 per cent of its annual exports.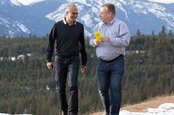 Stephen Elop and the fall of Nokia revisited
READ MORE
The missteps and subsequent fall from grace of the phonemaker is well-documented, with Microsoft pulling the chain after Apple had given the Finnish outfit a gentle nudge into the lavatory bowl.
There is, of course, more to the sad story for those still holding a candle for the Nokia of old.
The sharp left hook of Nokia's demise followed by the uppercut of the global financial crisis has left Finland's economy reeling for the last decade.
Nokia has since focused on the telecoms side of its business, although the phone market remains an itch it is unable to resist scratching, with Nokia branded mobiles emerging from China in the form of some solid Android performers and the odd bit of nostalgic whimsy.
While there is no mention yet of an attempt to get a place in Nokia's boardroom, Mäkinen said the intent of the investment was to "strengthen and stabilise the domestic ownership in this nationally very important company."
He went on: "The appealing factors for us are the company's strong market position combined with broad technological expertise."
No doubt the Finnish government will expect to be able to exert some influence to maintain that position this time around. ®