Boeing ships its 10,000th 737
Airlines want another 4,600 of the single-aisle workhorse that debuted in 1967
Boeing has revealed that the 10,000th 737 rolled off the production line this week.
The 737 debuted in 1967, a time when demand for air travel started to boom. Boeing decided to cash in by making a smaller, cheaper plane to complement its long-haul ~200-seat 707 and the mid-sized and mid-range 727.
The first 737, the model -100, carried up to 124 passengers on journeys up to 3,000km. Only 30 were made because airlines preferred the model -200 which added another dozen passengers and extended the plane's range to almost 5,000km.
Boeing's history of the type says the company wanted to get the 737 to market fast and therefore used "the same upper lobe fuselage as the 707 and 727 so that the same upper deck cargo pallets could be used for all three jets." But other elements were new in important ways: placing the engines beneath the wings made for a wider fuselage and six-abreast seating, which beat other small jets of the time.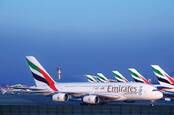 A380 saved as Emirates orders another 20 planes, plus 16 options
READ MORE
A flight deck capable of operation by a crew of two also made a difference, by reducing costs.
Airlines therefore quickly came to appreciate the 737, as it added superior passenger capacity when compared to its competitors, could haul freight and had no trouble with rough runways which meant it could go where other planes could not.
The -100 and -200 are known as the "Original" 737. Next came the "Classic" models. Introduced in 1984, the new -300, -400 and -500 models increased passenger capacity to 188, added new engine options and updated plenty of on-board technology.
A bigger change arrived with the Next Generation 737, which debuted in 1993 and was designed to make the type more competitive when compared to Airbus' A320. The new −600, −700, −800, and −900 models could handle over 200 passengers in some configurations and featured larger wings and winglets to make them more efficient.
The Next Generation planes sold well and in the year 2006 Boeing pushed the 5,000th plane out the door. That the type has remained popular is easy to see by the fact that it has taken 12 years to double that number. Indeed, Boeing has 4,600 orders to fill, most for the 737 Max variant that adds a new split wing, quieter engines, passenger capacities up to 230 and range over 7,000km.
The plane has also spawned several military variants and a line of business jets.
The type arguably made low-cost airlines possible: pioneering carriers Southwest Airlines and Ryanair both made the 737 the only model they would fly, which helped them to reduce costs. Airlines are now putting the 737 MAX to work on transatlantic flights and other routes once thought unsuitable for single-aisle aircraft.
So popular is the 737 family that Boeing recently announced it would increase production from 47 to 52 a month. Airbus will operate at a similar pace as it works to fill the 5,000-plus orders on its books for the A320. Airbus, however, has only delivered around 7,000 A320s, making the 737 the most common passenger aircraft in the skies. And that's a position it looks set to enjoy for many years to come. ®