This article is more than 1 year old
One in three Android Wear owners also uses ... an iPhone
Which may be why Google's changed the name to 'Wear OS'
LogoWatch LogoWatch Google's re-branded Android Wear, the cut of Android for wearable devices, as "Wear OS by Google" and added the tag line "make every minute matter".
The company's brief announcement doesn't really explain why Google's made the change, other than to say it's "a new name that better reflects our technology, vision, and most important of all—the people who wear our watches."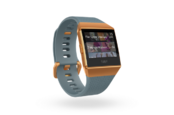 Wearables are now a two-horse race and Google lost very badly
READ MORE
And who wears 'em? Analyst firm IDC recently counted 115.4 million shipments in 2017, with a growth rate of 10.3 per cent, and put Apple on top of the heap with 17.7m shipments and 15.3 per cent market share. Android Wear purveyor Xiaomi was two million units and 1.7 per cent of market share behind, followed closely by Fitbit which rolls its own OS.
Google's own data turned up another interesting point: "In 2017, one out of three new Android Wear watch owners also used an iPhone." Which tells us plenty of Android Wear users aren't buying into the whole Android ecosystem, and also that plenty more Apple users might not consider the OS for wearables because its name ties it to Android.
Just how changing "Android Wear" to "Wear OS by Google" therefore reflects "the people who wear our watches" is anyone's guess. It does, however, reflect a name that's much closer to "Watch OS". And it also follows the pattern established in the smartphone industry, where the manufacturer's brand is usually out front and the Android brand is tucked in as a detail.
Google's told Android Wear users "You'll begin to see the new name on your watch and phone app over the next few weeks." ®