This article is more than 1 year old
Oracle botherer Rimini Street brags of swelling fortunes – but hands tied on reinvesting cash
Biz left with fewer reps after limit on sales, marketing spend
Rimini Street, the third-party support thorn in Oracle's side, has reported increased revenue and operating profit in 2017 – but complained unspecified covenants have prevented it from investing in sales staff or marketing.
The Las Vegas-based biz's financial numbers for the year ended December 31, 2017 – which are the first full-year results since it was listed on the NASDAQ – show a 33 per cent boost in revenue year-on-year to $212.6m.
There was also a 58 per cent growth in operating income, to $22m, and a gross profit percentage of 61 per cent, up from 58 per cent in 2016. Overall, the organization, which has been locked in an expensive legal tussle with Oracle, made a net loss of $53.3m in 2017, compared to the previous year's $22.9m loss.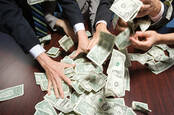 Rimini Street attempts to claw back more cash in Oracle copyright dispute
READ MORE
Although chief exec Seth Ravin boasted on Thursday of a "growing demand" for Rimini's services, the biz reported that it was unable to plow the extra dosh into its operations the way it wanted to during 2017.
According to Ravin, Rimini Street was "limited in our ability to invest for growth by the terms of the existing credit facility" that put a spending covenant on investment in sales and marketing.
This meant the biz only spent $66.8m – 31 per cent of its revenues – on these operations in fiscal 2017. Compare that to $79.2m (45 per cent) of $160.2m the year before.
Ravin described the drop from 45 to 31 per cent as "startling" for a business trying to grow, noting that the firm "ended 2017 with less sales reps than we did coming into 2016." It was "very challenging" trying to ensure high growth "when being governed down in cost," he added.
But next year the biz will be aiming to invest between 36 and 39 per cent of revenues in sales and marketing, and hire more staff, Ravin said.
"In October 2017, we were able negotiate an amendment to the credit facility which loosened some covenant thresholds, including the sales and marketing spending covenant," he said.
Wartime
During an earnings call with analysts, Rimini execs outlined the firm's ongoing legal battles with Oracle. The database giant sued Rimini in 2010, alleging copyright infringement, and although it eventually fell in Oracle's favor – Rimini was ordered to pay up some $124m in total – Larry Ellison's lot has been told to hand back $50m in January this year.
Rimini Street said it expects Oracle to refund about $21m in Q2 of 2018, and then the rest later in the year. These will be used to pay off outstanding debts under its credit ability, with a portion of what is left being given to the insurance company that covered a portion of its legal bills.
Meanwhile, Rimini Street is pursuing Oracle in the courts, accusing Big Red of intentional interference with its contractional relationships and violation of California and Nevada's unfair business practices statutes. That legal action is not due to reach trial until at least 2020.
Ravin also said that the business had been affected throughout the year by "behavior by a competitor that we believe was illegal," but that the impact had lessened over the course of the year. "We are aggressively addressing the behaviors in court and seeking appropriate damages," he added.
Overall, litigation cost the firm $17.2m in fiscal 2017, which was offset by $12.3m of insurance reimbursement – meaning it spent a net $4.9m. In 2016, it spent $24.3m but this was offset by $54.3m from insurance. ®