This article is more than 1 year old
Cambridge Analytica CEO suspended – and that's not even the worst news for them today
Facebook isn't having a very good time either
For the fourth straight day, Cambridge Analytica is scrambling in the wake of damning media reports.
The embattled London-based biz suspended its CEO Alexander Nix on Tuesday after the UK's Channel 4 aired yet another news report – this time showing Nix claiming to have run the "digital campaign" for US President Donald Trump's election team, having helped secure the reality telly tycoon tens of thousands of votes to win three crucial states, and used encrypted webmail like Protonmail to avoid congressional investigations.
"In the view of the Board, Mr Nix's recent comments secretly recorded by Channel 4 and other allegations do not represent the values or operations of the firm and his suspension reflects the seriousness with which we view this violation," Cambridge Analytica's board said in announcing the move.
"We have asked Dr Alexander Tayler to serve as acting CEO while an independent investigation is launched to review those comments and allegations."
Dr Tayler is the chief data scientist at SCL Group and SCL Elections, Cambridge Analytica's parent. SCL Group, SCL Elections and CA are weirdly intertwined, it should be noted. Nix is still a director of SCL Group and SCL Elections. Cambridge Analytica is effectively a shell company that may or may not have any real employees. So Nix's "suspension" from CA may not mean anything at all.
Cambridge Analytica was set up by former top Trump advisor Stephen Bannon and rich Republican donor Robert Mercer, who had apparently sunk at least $15m into the biz. This is a particularly important point: Cambridge Analytica, it is claimed, bought copies of private data on millions of Facebook users, and used that information to fling pro-Trump ads at them, all while being overseen by pro-Trump svengalis.
Incidentally, Nix is a director of a recently started Brit company, Emerdata, along with Rebekah and Jennifer Mercer and others. Jennifer and Rebekah being Robert's daughters. Emerdata is, surprise, surprise, a "data processing" business. And so the cycle continues.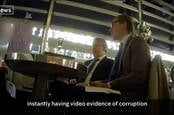 BOOM! Cambridge Analytica explodes following extraordinary TV expose
READ MORE
Tuesday's Channel 4 report was the second this week to show Cambridge Analytica execs speaking candidly about how the company seeks to stealthily manipulate public opinion via tightly targeted social media posts and advertising on behalf of candidates and political campaigns.
"We just put information into the bloodstream to the internet and then watch it grow, give it a little push every now and again over time to watch it take shape," Nix is shown saying.
"And so this stuff infiltrates the online community and expands but with no branding – so it's unattributable, untrackable."
Cambridge Analytica, meanwhile, issued a flurry of press releases to limit the damage from the reports, including a comment on its dealings with the UK's privacy watchdog – the Information Commissioner's Office – regarding claims CA obtained the private information of 50 million Facebook users to target them with polarizing political messaging.
The ICO announced on Monday it was seeking a search warrant to enter Cambridge Analytica's offices to rifle through computer systems and files as part of a probe into the biz.
"Since early last year we have subsequently cooperated with the ICO on multiple lines of enquiry, including most recently on the Facebook data and derivatives that we received from GSR, the research company that we engaged in good faith to legally supply data for research," Cambridge Analytica said.
Earlier, on Monday, CA had attempted to play down this week's allegations, claiming the undercover footage had been unfairly "edited and scripted." Nix also denied engaging in any wrongdoing.
One place where Cambridge Analytica won't be plying its trade, by the way, is Australia. The company on Monday deregistered its business name Down Under – though its other brand, SCL Group, will continue to operate.
Zuck stays silent, Sandberg leans out
Back in Silicon Valley, Facebook is trying to do its own damage control. The social network reportedly held an all-hands staff meeting – minus CEO Mark Zuckerberg and COO Sheryl Sandberg – to brief employees on the situation.
The tech giant also issued a statement to journalists claiming it was shocked – shocked – to find gambling misuse of millions of people's personal data was going on in here:
Mark, Sheryl and their teams are working around the clock to get all the facts and take the appropriate action moving forward, because they understand the seriousness of this issue. The entire company is outraged we were deceived. We are committed to vigorously enforcing our policies to protect people's information and will take whatever steps are required to see that this happens.
Not so committed, though, apparently. Sandy Parakilas, a former platform operations manager at Facebook, claimed on Tuesday that hundreds of millions of people's private information has been potentially siphoned from the social network by companies strategically using apps to collect data from profiles – which is how Cambridge Analytica got hold of its trove of intelligence: via a third-party software developer.
Remember being in a rush that one time and allowing an application to access to your Facebook profile? Well, that's how these outfits harvested accounts' private info, and passed it on to other organizations such as Cambridge Analytica.
To stop applications and websites accessing your profile, consider turning off Facebook Platform, which connects accounts to services. Bear in mind you may be unable to log into sites that you use FB to access.
Meanwhile, US state attorneys general are preparing to launch their own probes of the situation. New York AG Andrew Schneiderman said both he and Massachusetts AG Maura Healy have sent Facebook a demand letter ordering the social network to explain itself.
"Consumers have a right to know how their information is used – and companies like Facebook have a fundamental responsibility to protect their users' personal information," Schneiderman said.
"Today, along with Massachusetts Attorney General Healey, we sent a demand letter to Facebook – the first step in our joint investigation to get to the bottom of what happened."
The scandal was enough to turn off Brian Acton, cofounder of WhatsApp, the startup Facebook famously acquired for $16bn in 2014:
It is time. #deletefacebook

— Brian Acton (@brianacton) March 20, 2018
Wall Street, meanwhile, continued to punish Zuck and Friends where it hurts most. For the second straight day, Facebook stock was down. The $4.41 tumble follows yesterday's $12.53 plummet to bring Facebook share prices down from Friday's $185.09 to $169.15, trimming an eye-watering $46.36bn from its market cap.
There's also the spectre of an investor lawsuit. Filed in the Northern California District Court by named plaintiff Fan Yuan, the complaint [PDF] accuses Facebook, Zuckerberg, and CFO David Wehner of violating federal securities laws by not letting investors know it had been providing user data to third parties.
Huge fines loom, possibly
The losses could get even worse for Facebook, as America's trade regulator the FTC has reportedly begun a probe of its own to help determine whether the Cambridge Analytica debacle puts the social network in violation of the 2011 consent decree it agreed to after the trade watchdog took it to task for mishandling user data.
Facebook could be on the hook for $40,000 per person affected – as much as $2 trillion – if the FTC comes to the conclusion the website broke that agreement. ®