It may be a surprise to some, but a tech consultancy has said that the existing all-flash array market is in no danger of losing market share to NMVe over Fabrics (NVMeoF) types – saying they're not competing in the same areas. It also said mainstream storage array suppliers would soon be snapping up the NVMeoF startups for their technology.
The 451 consultancy and research group eyed up NVMeoF storage arrays and offered a report ranking array types and suppliers – as well as another looking at who's in a position to acquire them.
It described several types of all-flash arrays (AFAs), which started out by modifying traditional SAN dual-controller arrays and are ending up leaving them a long way behind as they exploit lower latency network and storage stack avoidance ideas to deliver far higher data access performance than ever before.
Gen 1 AFAs
First generation AFAs were essentially the classic dual controller disk drive array reinvented with SSDs in the drive bay slots, and using disk drive interfaces such as SAS. They gained their speed and lower latency access from using SSDs instead of HDDs.
Quoth 451: "Take-up of the current first generation of AFAs began in earnest only about five years ago, and the systems are already in use at about 25 per cent of all enterprises, and well over half of enterprises with more than 1,000 employees, according to 451 Research's Voice of the Enterprise (VotE) service."
Updated first generation AFAs then moved to replace SAS SSDs with lower latency access NVMe SSDs. The 451 report states: "NVMe drives are currently about 50-75 per cent faster for reads and writes than the SAS-based flash drives that power most current AFAs."
However the removal of latency from drive access exposed the data access latency, or delay, caused by network access to the drives in the shared external arrays across Fibre Channel or iSCSI links, and also by the time taken to traverse the storage IO stack, both in the accessing servers and in the external arrays.
Gen 2 AFAs
The second generation AFAs are focused on lowering both the network and storage IO stack latency by using either accelerated Ethernet or FPGA-acceleration, or NVMeoF with RDMA access from accessing servers to the storage array.
The analysts say: "The systems being sold by this group are not competing with existing SAS-powered AFAs, or AFAs that have been converted to NVMe. Instead, they collectively represent a second generation of all-flash, NVMe and NVMeoF systems that are significantly more expensive than existing AFAs, but are also much faster, and can meet the needs of data-intensive applications."
The report also observed that dual-ported NVMe drives will be needed at – or near – dual-port SAS SSD prices before general enterprise take-up of these arrays takes place.
One OEM told 451 Research recently that dual-port NVMe drives were currently about 15 per cent more expensive than SAS equivalents, and added that, for many customers, that is a significant price difference.
However, latency-sensitive applications have started using them already where the cost is justified, with 451 mentioning "real-time analytics" as "the biggest single target for vendors of second generation NVMe storage, not least because it is expected to see sharply increased usage over the next few years".
Other use cases mentioned included "artificial intelligence, genomics, video processing, financial trading, and conventional but performance-sensitive transactional databases".
Incumbents and NVMeoF arrays
Many incumbent storage suppliers are implementing plans for NVMeoF.
Pure Storage has an array with NVMe drives and NVMeoF support coming
NetApp has support for NVMeoF with NVMe drive support coming
IBM has announced NVMeoF support
Hitachi Vantara has NVMe support planned
Dell EMC has a made "an ambitious but failed move into NVMe storage" with the DSSD D5 array and has new NVMe support coming
According to the report's authors, Dell's cancelled D5 array was not a bad OEM for NVMe. Instead it was an unsuitable system – overcomplicated, with limited scalability, proprietary technology and a high price – 2X to 3X more than competing startup arrays at the time, it opined.
Essentially, they were saying that the NVMe direction the D5 took was correct but the implementation was not.
Potential acquirers and acquirees
The 451 folks said that, as has been traditional in the storage industry, new technology startups would be bought by the mainstream old guard, and it listed a few of the desirables below.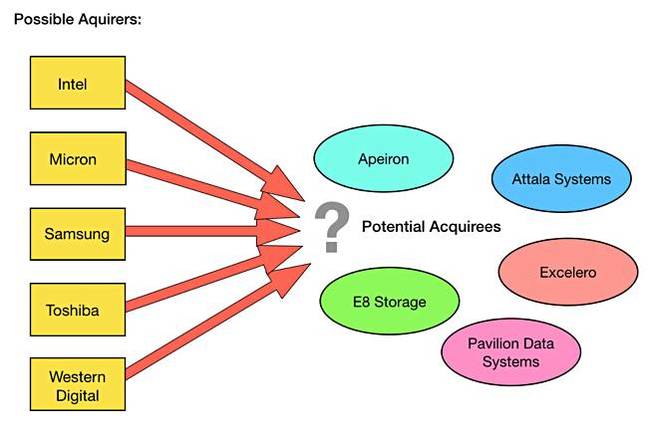 451's possible NVMeoF acquirers and acquirees
The overall 451 message was:
NVMe is revolutionary technology, but it will be a relatively slow burner. OEMs acknowledge its importance, but as a group – and with some exceptions – they are moving at a relatively relaxed pace to adopt it. ... As a result of this and other factors, in the near term we do not expect any of the incumbent suppliers to ink any acquisitions in this field. ... we think that eventually there will be consolidation, probably in 2019 or beyond.
Both reports are available to non-451 subscribers: "NVMe shapes up as challenge and opportunity for storage" here and "NVMe flash storage spawns startups – and acquisition prospects" here. ®