NASA's monster rocket, the Space Launch System (SLS), took another tentative step towards lift-off yesterday as engineers fitted the last big umbilical arm to its launch tower.
The arm was attached at the 240 feet (73m) level and will provide propellant, pneumatics and electrical connections to the Interim Cryogenic Propulsion Stage before swinging away at launch in a manner that will delight those nostalgic for the old Saturn V.
Contractors have been keeping a close eye on the tower after it began to lean slightly towards where the SLS will stand, as components such as the umbilical arms were added.
At the time, NASA told The Register: "The mobile launcher is built in accordance with standard steel construction code, including predicted, allowable deflection accounted for in the design."
The Public Affairs Office sounded a further note of reassurance: "Throughout the installation process, the construction contractor has regularly taken laser survey measurements of the tower to ensure it meets critical system tolerances where the rocket and spacecraft will interface with the mobile launcher."
The Register has asked NASA for an update on the lean following this milestone.
Obviously, clipping bits of the launchpad during lift-off – a hugely unlikely scenario, El Reg notes – would result in a bad day for all concerned. Rockets and their occupants tend to react quite negatively to striking the launch tower.
NASA's SLS rocket and its mobile launcher have had somewhat of a difficult history, arising from the ashes of the Constellation program (initiated by then President George W Bush and subsequently cancelled by former President Barack Obama).
The mobile launcher (PDF) itself was originally built for the Ares I crew rocket and then shoved behind the VAB building while NASA pondered what to do with it.
Eventually it was decided to repurpose the structure for use by the SLS rocket, due for launch in 2019 (but probably 2020).
First announced in 2011, the SLS has been beset by schedule and funding difficulties. The success of SpaceX's Falcon Heavy launcher (itself delayed nearly five years) has put NASA's heavy lifter under additional pressure.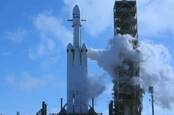 MY GOD, IT'S FULL OF CARS: SpaceX parks a Tesla in orbit (just don't mention the barge)
READ MORE
It is, however, unlikely that a crew will ever sit atop Musk's mighty missile.
Unlike the SpaceX launcher, which consists of three Falcon 9 boosters, lightly modified and then strapped together, the SLS is built from components either derived or leftover from the Space Shuttle era.
Also, unlike the SpaceX's reusability approach, NASA intends to dump the engines, which would have previously glided back attached to the rear of a Shuttle into the Atlantic.
The SLS does have the edge on the payload front – initially capable of lofting 70,000kg to orbit (PDF), up from Falcon Heavy's paltry 63,800kg.
NASA has plans to grow that payload to 130,000kg for missions beyond Earth orbit. SpaceX, on the other hand, intends to move to the amusingly named Big Falcon Rocket, a vehicle yet to make its way off the drawing board. ®
Similar topics