This article is more than 1 year old
WekaIO pulls some Matrix kung fu on SPEC file system benchmark
Like a bat out of parallel...
Startup type WekaIO has apparently walked all over IBM's Spectrum Scale parallel file system with a doubled SPEC SFS2014 benchmark score for its Matrix software running on Supermicro servers.
The benchmark tests the performance of filers and we're looking at the number of software builds completed in a run and the overall response time (ORT).
WekaIO's Matrix parallel file system seemingly showed IBM's Spectrum Scale a clean pair of heels, scoring 1,200 builds against Spectrum Scale's 600.
| | | | |
| --- | --- | --- | --- |
| System | Builds | ORT | Date |
| WekaIO Matrix – Supermicro | 1,200 | 1.02 | March 2018 |
| IBM Spectrum Scale – E8 | 600 | 0.69 | January 2018 |
| NetApp FAS 8200 FlexGroup | 520 | 1.04 | September 2017 |
| WekaIO Matrix | 500 | 3.06 | July 2017 |
| IBM Spectrum Scale – Cisco UCS – FlashSystem 900 | 240 | 1.32 | September 2017 |
The previous top-scoring system was IBM's Spectrum Scale parallel file system using an E8 NVMe all-flash array. That setup had a D24 storage node with 24 x HGST N200 1.6TB dual-port NVMe SSDs and 16 Spectrum Scale client nodes.
The WekaIO configuration had 4 x Supermicro Big Twin servers – 4 x 2-socket CPU nodes in 2U chassis with 4 x NVMe SSDs/node. The WekaIO Matrix 3.1 file system used 64 x 1.2TB Micron 9100 NVMe SSDs, and there were 11 client nodes hooked up via a Mellanox 100GbitE MSN 2700 switch.
We see NVMe SSDs being used in both cases.
Here are the ranked build score results: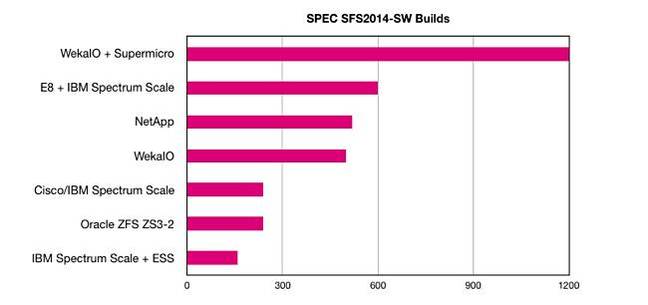 And here the build scores overlaid with the ORT numbers: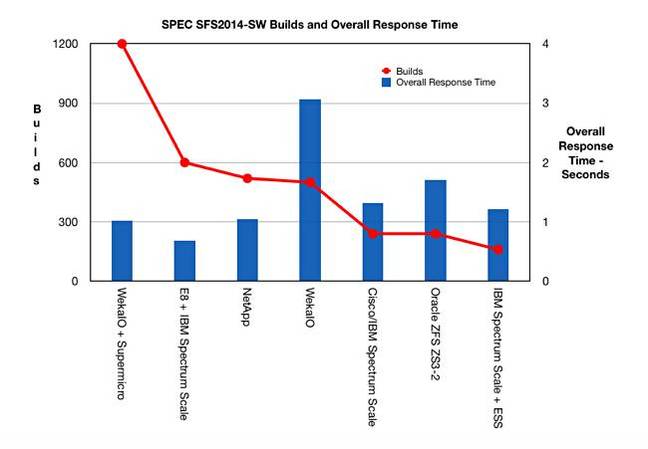 Spect SFS2014 builds and ORT values
A previous WekaIO Matrix system, using v3.0 software, scored 500 builds on this benchmark in July 2017. The latest result featured updated Matrix v3.1 software. Is that why it is so much faster?
The startup is one of a crowd of techies ostensibly making large performance gains and latency lowering file system tech moves.
WekaIO co-founder and CEO Liran Zvibel said: "The current results are higher than the previous ones for two reasons: previous results were run on AWS R3 instances that have local SATA devices, so they did not support our native NVMe-oF stack (the new AWS I3 instances do).
"Secondly, we are already the fastest file system available, as we are the only file system to be completely re-architected for NVMe and low-latency fabrics."
It rather looks like its file system software made the difference. HPE has recently started reselling the Matrix software, which is certified with its Apollo 2000 Gen10 and ProLiant DL360 Gen10 servers.
Zvibel told The Reg that his firm had more software development work in the pipeline: "Our architecture still has a lot of potential for performance optimisations to become even faster." ®