The Mozilla Foundation has expressed its discomfort at the Cambridge Analytica revelations by pulling its ads from Facebook.
While the disappearance of Mozilla's modest ad spend is hardly going to bring down The Social Network™, the organisation's decision to "pause" its Facebook advertising came after Zuckerland tried to assure Mozilla that the conditions that prevailed in 2015 (when Cambridge Analytica breached its terms of service) had long been addressed.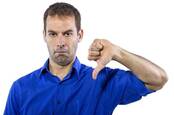 Cambridge Analytica CEO suspended – and that's not even the worst news for them today
READ MORE
On March 20, Mozilla made this statement on the scandal, asking Facebook to protect privacy "by default" [Good luck with that one - Ed], and saying its app permissions leave "billions of its users vulnerable without knowing it".
Mozilla also launched a petition against apps that access data on people other than that of the individual who installed an app. Facebook apparently took exception to that. Here's what Mozilla added on March 22:
Facebook reached out to us to discuss how we characterized their settings and to tell us that our original blog post overstated the scope of data sharing with app developers. What we described is an accurate characterization of what appears in Facebook's settings.
What Facebook told us is that what we have written below is only true generally for third-party apps prior to 2015. Again, this isn't clear in the user-facing tools and we think this needs to be fixed.
Mozilla remains unconvinced, and in the post that explained why it's putting advertising on hold, the foundation's Denelle Dixon wrote: "While we believe there is still more to learn, we found that its current default settings leave access open to a lot of data – particularly with respect to settings for third party apps."
Mozilla says it will take a "wait and see" approach: if satisfied by what Mark Zuckerberg delivers in his promise to make privacy settings "more protective", "specifically strengthening its default privacy settings for third party apps, we'll consider returning".
It's feasible that Mozilla won't be the last to review its ad spend. In the UK, advertiser organisation the Incorporated Society of British Advertisers (ISBA) is demanding answers on behalf of its roughly 3,000 brands.
The Society's position statement says the data-slurp, micro-targeting, psychographics and exploitation "raise questions about the possibility that Facebook data has been, or is being used improperly elsewhere. ISBA is asking Facebook for a full account of further potential issues so that advertisers can take appropriate measures." ®
Similar topics