This article is more than 1 year old
UK watchdog finally gets search warrant for Cambridge Analytica's totally not empty offices
After weeks of stalling and delays, ICO wastes no time kicking down the doors
Cambridge Analytica's London offices will finally be searched by the UK's Information Commissioner's Office, following a marathon week of arguing inside and outside court.
Woolwich Crown Court, sitting in the capital's Royal Courts of Justice for the occasion, granted the warrant after a five-hour hearing. The ICO, as the UK's data protection regulator, wants to raid Cambridge Analytica's premises to see whether the controversial consultancy still has copies of millions of people's Facebook data, as allegedly slurped from the platform without users' explicit consent.
Ben Summers, the barrister arguing the ICO's case, told the court: "There are a number of hurdles which the ICO must cross in order for the warrant to be issued. One of those is the question of whether or not the court is satisfied that the evidence which is the subject of the application is in fact on the premises in question."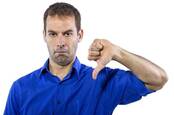 Cambridge Analytica CEO suspended – and that's not even the worst news for them today
READ MORE
Cambridge Analytica (CA) sent two QCs – top barristers – to argue against the ICO's application. They suggested that the application for the warrant was flawed because, among other things, CA had offered to allow the ICO access to its offices, subject to agreeing the terms and scope of access with the regulator.
Although Information Commissioner Elizabeth Denham announced that the ICO intended to apply for a search warrant on live national TV news on Monday, making her look as if she had tipped off CA of an impending raid, the true situation became clear in court: the regulator had been attempting to negotiate access to CA-parent SCL Elections Ltd (SCLE)'s premises for most of this month.
In any event, unlike virtually all other search warrants, warrants issued under Blighty's Data Protection Act must by law, in most circumstances, require those on the receiving end be given seven days of notice of the intended swoop in writing, and be given a chance to argue against the warrant if they so wish.
In spite of hearing apparently sincere promises from SCLE over the past few weeks that negotiated access would eventually be coming, the ICO's patience finally snapped, leading to today's warrant proceedings and approval.
Name games
SCLE is the British company behind the entity known to world+dog as Cambridge Analytica. Although the court talked purely about SCLE, we will refer to them as CA.
CA hired a firm called Global Science Research Ltd (GSR) to obtain highly detailed personal information from tens of millions of Facebook profiles for its commercial use, Summers told the court. GSR's Facebook user data was harvested through a Facebook app, named in court as This Is Your Digital Life, which was said to have asked users to undertake a seemingly innocuous survey.
"That application gathered, it appeared, not only [users'] responses to that survey, which was obviously designed to elicit certain information about their personalities or characters," Summers told the court, "but also recovered data from that user's Facebook profile, and also gathered data from those users' friends on Facebook."
The app harvested users' "forename, surname, gender, location, and in various modelled parts, results of the survey, personality scores, and so on, so forth, in relation to political modelling," the ICO's barrister said.
GSR was dissolved late last year. One of its directors was Dr Aleksandr Kogan, a Cambridge University data scientist who reportedly admitted harvesting the personal details of 30 million people through the app.
Facebook, the court was told by barristers Christopher Coltart QC and Philip Coppel QC on behalf of CA, demanded that the slurped data be deleted. This, they told the court, was done in 2015 and was confirmed by an independent audit of CA's UK servers that Facebook requested in March 2017.
Having sat through the five hours of increasingly dense legal argument, including full length submissions from both of CA's barristers which took the hearing well beyond the court's normal closing time, His Honour Judge Leonard QC rejected CA's arguments and granted the warrant at 7pm GMT.
An ICO statement issued immediately after the verdict on Twitter said the regulator would execute the search warrant "shortly":
ICO granted warrant: We're pleased with the decision of the judge and we plan to execute the warrant shortly. This is just one part of a larger investigation into the use of personal data for political purposes and we will now need time to collect and consider the evidence

— ICO (@ICOnews) March 23, 2018
Many onlookers have speculated about whether the length of time taken by the ICO to get access to CA's offices will have given the company time to remove any evidence from the regulator's view. It appeared, at the time of writing, that the regulator was moving in immediately.
ICO inside CA now pic.twitter.com/fvyD5FyBnv

— Tom Cheshire (@chesh) March 23, 2018
#Breaking Eighteen enforcement officers working for the Information Commissioner have entered the premises of Cambridge Analytica in central London after a High Court judge granted a search warrant

— Press Association (@PA) March 23, 2018
Wider investigations into Cambridge Analytica's activities, being carried out around the world, continue. The ICO had earlier this week told Facebook to stay away from CA's offices, after representatives of the American social networking giant showed up at the premises to conduct their own probe. ®
Further reading
You can follow El Reg's Gareth Corfield's tweets live from court today from this thread here...
I am now in court waiting for the ICO's application for a search warrant against Cambridge Analytica to continue. Suddenly very busy here.

— Gareth Corfield (@GazTheJourno) March 23, 2018
...and read an in-depth analysis of Cambridge Analytica, by non-profit journalism outfit Mother Jones, here:
Amazing story about how Cambridge Analytica was selling snake oil to the credulous. Your privacy was violated to give scammers a cover story, as far as I can tell. https://t.co/UVfkHBI1tE

— Justin Warren (@jpwarren) March 24, 2018
Bootnote
The warrant application hearing had to be moved out of Court 5 at the Royal Courts of Justice to Court 27 after audio recording equipment failed to work. Court 5 is normally reserved for the President of the Queen's Bench Division of the High Court, Lord Leveson, one of the most senior judges in the land.