This article is more than 1 year old
Prez Trump's $60bn China tariff plan to hit tech, communications, aerospace industries
Good thing we have all those chip fabs and assembly plants stateside
US President Donald Trump's planned tariffs on goods imported into America from China could hit the tech industry – and ergo, you the customer – particularly hard.
The tariffs, announced in a memorandum on Thursday by the Tweeter-in-Chief on Thursday and fleshed out by the office of the US government's trade representative (USTR), target up to $60bn in components and products imported from Chinese factories.
According to the USTR, among the Chinese industries in the president's crosshairs: "aerospace, information and communication technology, and machinery."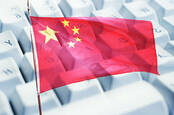 We caught Chinese technology spies RED-HANDED, claims US government
READ MORE
The trade rep has not said exactly which products and goods specifically will be subject to the 25 per cent hike in duties. That will be announced within the next 15 days. It is feared any extra import charges on electronics coming into the US from China will be passed on to customers, hitting citizens and businesses in the wallet.
The USTR also said it will seek restrictions on Chinese companies investing in the US, and will raise gripes about the Middle Kingdom to the World Trade Organization.
This proposed crackdown – which will involve public consultations before kicking off – comes after a nearly seven-month investigation by the USTR into what the White House sees as "unfair" trade policies and practices from China. This, the president said, includes rampant intellectual property theft and hacking attacks on American companies, particularly those in the tech sector.
Basically, Trump is fed up with Chinese organizations ripping off, stealing, and undercutting America's knowhow and blueprints, and squeezing the pips of US outfits with licensing deals and joint ventures.
That China's aerospace and technology businesses would be targeted by the president is hardly a surprise, given the focus of the investigation.
"China uses foreign ownership restrictions, including joint venture requirements, equity limitations, and other investment restrictions, to require or pressure technology transfer from US companies to Chinese entities," President Trump said.
"China also uses administrative review and licensing procedures to require or pressure technology transfer, which, inter alia, undermines the value of US investments and technology and weakens the global competitiveness of US firms."
Specifically, here's what the USTR says it is going to be working on, following the memorandum:
Tariffs – The President has instructed the Trade Representative to publish a proposed list of products and any tariff increases within 15 days of today's announcement. After a period of notice and comment, the Trade Representative will publish a final list of products and tariff increases.
WTO dispute – The President has instructed the Trade Representative to pursue dispute settlement in the World Trade Organization (WTO) to address China's discriminatory technology licensing practices.
Investment restrictions – The President has directed the Secretary of the Treasury to address concerns about investment in the United States directed or facilitated by China in industries or technologies deemed important to the United States.
"President Trump has made it clear we must insist on fair and reciprocal trade with China and strictly enforce our laws against unfair trade," said US Trade Representative Robert Lighthizer.
"This requires taking effective action to confront China over its state-led efforts to force, strong-arm, and even steal US technology and intellectual property.
"Years of talking about these problems with China has not worked. The United States is committed to using all available tools to respond to China's unfair, market-distorting behavior. China's unprecedented and unfair trade practices are a serious challenge not just to the United States, but to our allies and partners around the world."
Shortly after the plan was unveiled by Trump and Lighthizer, China issued a response in the state-run Global Times, saying it would likely impose its own restrictions on soybeans and other agricultural imports from America.
"First, the US government is wrongfully taking its own economic hardships out its trade relationship with China. Second, it is overestimating its ability to adjust international trade in the market economy's private sectors, as well as its advantage in a trade war with China," the paper declared.
"Finally, it has underestimated China's resolve regarding retaliatory measures, and it has not fully considered the price it will pay by starting this trade war."
Talk of a trade war did not go over well on Wall Street. After the tariffs were announced, the Dow Jones plunged a massive 700 points, one of its worst falls ever. ®