Ex-ZX Spectrum reboot man threatens sueball over unpaid invoices
Meanwhile, the company accounts are overdue
Yet more financial claims are piling up against failing ZX Spectrum Vega Plus firm Retro Computers Ltd, with the company's former web fixer threatening to sue over allegedly unpaid invoices.
One-time contractor Lee Fogarty, who performed a range of roles including web dev and organiser of product testing, has told The Register that he intends to sue RCL over £599 of unpaid invoices.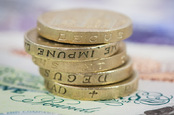 Crowdfunding small print binned as Retro Computers Ltd loses court refund action
READ MORE
Fogarty showed us a copy of a letter he sent to RCL chairman Dr David Levy, headed "Final letter before commencing legal action". The sum due was broken down as £500 for the original, overdue, invoice with the rest being accrued interest.
"I may also commence insolvency proceedings," warned Fogarty in his letter, adding to us that the invoice related to "consultancy" work.
On behalf of RCL, Levy told El Reg: "Far from owing Lee Fogarty money, RCL paid Lee in advance for work he has either not delivered or was not of an acceptable commercial standard. He received £14,000 from RCL and we have nothing useful to show for it."
RCL's chairman also alleged that Fogarty had "defaced" the firm's website after his departure.
Following February's county court judgement against RCL over its failure to deliver its advertised product, and the firm's failed attempt to appeal against it, more people have filed small claims court actions against the firm.
None of this mudslinging and infighting brings the project visibly closer to its stated goal of delivering ZX Spectrum-themed game consoles to RCL's customers.
What's this catfight all about, then?
RCL, as regular readers know, took £513,000 in cash pledges from the public to deliver its ZX Spectrum Vega Plus handheld gaming console. The gadget, targeted at those old enough to remember the halcyon days of Sir Clive Sinclair's early computers, proved very popular, with nearly 5,000 people signing up through crowdfunding platform Indiegogo to receive the device.
Sir Clive himself has a presence on RCL's board through his corporate tentacle, Sinclair Computers Ltd.
Since a bitter falling-out between RCL's directors last year, resulting in two of them walking away from the project, the company has repeatedly failed to meet numerous self-imposed delivery deadlines. Its failure to deliver, amid mounting public pressure on both the firm itself and the crowdfunding platform that enabled this sorry saga, pushed Indiegogo to declare it would hire a debt collection agency if RCL failed to deliver by May this year.
The Companies House listing for RCL shows that its accounts are nearly two months late, having been due on 31 January 2018. ®