Formula One world champion Lewis Hamilton was left fuming after a software glitch denied him an easy win in the first race of the 2018 season on Sunday.
Hamilton held a comfortable lead in Australia's Melbourne grand prix from the start. Then third-place Ferrari driver Sebastian Vettel was able to temporarily take pole position after Hamilton pitted for fresh rubber. Hamilton was thus second, and Ferrari's Kimi Räikkönen pushed down from second to third. Vettel had yet to pit, though.
Then both of the American Haas team's cars had to be taken off the circuit after their wheel nuts became loose. That triggered a virtual safety car (VSC).
The VSC is a fairly new concept: while active, the drivers have to slow down, they cannot overtake, and they must not go below minimum times for each circuit sector. Failure to follow the rules will result in penalties. This is all done to preserve the race state while giving safety marshals time to clear debris or vehicles off the track.
While the VSC was active on Sunday, Vettel ducked into the pit lane, where the virtual car's speed rules did not apply, picked up fresh tires, and emerged still ahead of Hamilton to secure first place.
Vettel was able to do this because Mercedes' software told Hamilton he had plenty of time in hand to retake first place, given his pace, despite the VSC slowing down the race. The code thought Vettel would spend at least 15 seconds making a pit stop; the Ferrari driver and his team took just 11 seconds. That meant Vettel exited the pit ahead of Hamilton, much to the Brit's surprise.
'Simply wrong'
"The pace was good and calculating the VSC gap that was needed, our computer said that 15s was the necessary time gap in order (for Vettel) to jump us," explained Mercedes team boss Toto Wolff.
"We were always within this 3-4s margin and then suddenly the cameras showed us the pit exit and Sebastian came out in front of us. The drivers always oscillate in the time delta within 1s and he did absolutely nothing wrong. It was down to a software bug or an algorithm that was simply wrong."
Wolff said that the software has been used for years and is now being examined, describing the situation as "a punch in the gut." Hamilton later switched his engine management system into "party mode" for maximum power, but was unable to retake the lead on the notoriously difficult-to-overtake circuit.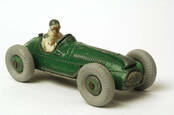 Microsoft's AI is so good it steered Renault into bottom of the F1 league
READ MORE
Modern Formula One teams not only ship cars from circuit to circuit, but enough computer hardware to grace a moderately sized business. Every car is studded with sensors reporting back to race managers and software constantly updates the team to how certain tactical scenarios will play out.
In this case the software was telling Mercedes they were fine. But it emerged after the race that even if the software had worked properly, Hamilton may not have been able to extend his lead long enough to guarantee remaining in first place, but that was little consolation for the reigning British world champion.
"At least in my heart I know that I gave everything this weekend," he said. "I'm sure the team is feeling pain right now but we'll regroup and work on it." ®