Roundup In a week where we realised that spinning rust has plenty of life left despite the arrival of 100TB SSDs, here are all the minor developments that the Vulture storage desk found interesting but not enough to wax lyrical about. Let's go.
VxRail gets a disk failure prophet
ProphetStor Data Services was started in 2012 to federate block storage arrays and servers into a virtualized pool. One of its products is DiskProphet, software to analyse disk-level operational information, with the help of machine learning, and predict disk failures.
Dell EMC is using it with its VxRail hyperconverged appliances to help customers get looming disk problems fixed before the disks fail.
ScaleFlux compute-in-storage startup gets $25m
ScaleFlux has added Xilinx FPGAs to PCIE SSDs to produce Computational Storage. This can offload low-level storage-related operations from a host CPU and significantly boost drive IOPS.
It has raised $25m to develop its business in a funding B-round. The round was led by Shunwei Capital and includes multiple Tier-1 strategic corporate investors. This brings the total invested to date over $40m.
Hao Zhong, co-founder and CEO of ScaleFlux, said: "This funding will accelerate our Computational Storage deployments in global markets while also expanding the number of applications and use cases we support."
It's interesting that the lead investor is a Chinese VC and not a Silicon Valley one.
SymbolicIO becomes Formulus Black
Formulus Black is the new name for SymbolicIO, the startup with a radically new way of encoding stored code and data to speed computation. It was founded by Brian Ignorimello and developed IRIS i1, a hardware and software product of startling originality.
The company received a seismic shock when Ignorimello was arrested in July last year in somewhat deplorable circumstances.
We have seen new marketing signage suggesting it has been reborn as a software-only company: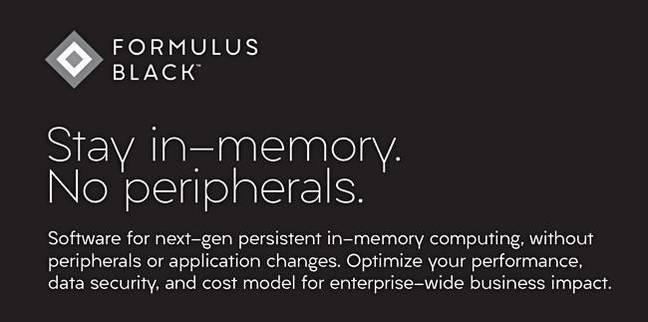 The company has a fresh website and its exec chairman is PhD-holding Carr Bettis. The EVP and chief architect is Steve Sicola and the grandly-named Senior Chief Technology Officer Fellow is Rob Peglar. All three held similar positions in SymbolicIO.
There is no CEO listed.
The software is described like this:
We break the historical boundary between compute and storage by reorganizing IO data structures into a more efficient pattern, benefiting the speed of computation while minimizing storage requirements.
By enabling persistent memory in our software without application code changes, applications get the benefit regardless of the operating system used (virtual) or filesystem involved.
Our patent-pending encoding method delivers massive gains in computing power and efficiency. As a result, our software reduces the amount of RAM required for computation, increasing compute speed by a factor of up to 10-20x in many operations, while processing exponentially more workload than other servers with the same CPU resources.
The three main product elements are:
Formulus Bit Marker (FbM) technology – proprietary software, methods, and algorithms that significantly reduce memory footprint for user data, reduce I/O bottlenecks, and inherently provide natural security of the data
ForCE stack – software stack developed to support FbM technology and organise and manage volatile memory as non-volatile memory
BLINK software – OS that enables a complete infrastructure to be backed up, restored, or scaled up in minutes. Contains machines, applications, security settings, configurations and data – the complete machine state. 100 per cent secure and only contain Symbolic bit Markers and proprietary metadata.
We understand that real-time backup of FbMs turns volatile memory into persistent memory.
VersaStack gets containerized
VersaStack is the Cisco-IBM validated converged infrastructure reference architecture design (Cisco Validated Design or CVD) product and it has a new containerized offering.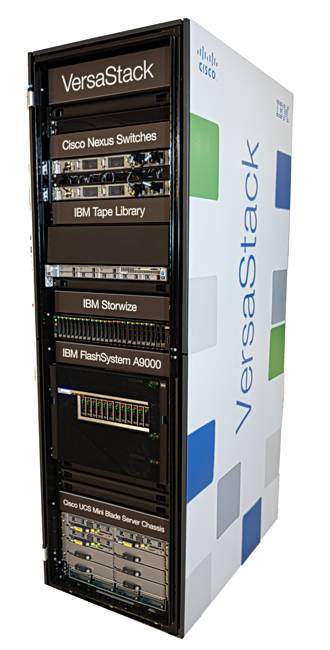 This is currently scheduled for release in the second quarter and integrates IBM Cloud Private (ICP) into the VersaStack offering through the IBM Spectrum Access Blueprint. Cloud Private is the renamed Spectrum Conductor for Containers, IBM's on-premises product for developing and managing containerised apps.
There are documents within documents here as Cloud Private gets into VersaStack through the IBM Spectrum Access blueprint. This describes a method for bringing together Cloud Private and VersaStack.
IBM just can't help itself complicating this converged infrastructure effort, which is supposed to simplify things, by stating: "With the coming CVD, IBM Spectrum Access for IBM Cloud Private will enable deployment of both IBM Spectrum Virtualize and IBM Spectrum Accelerate-based IBM all-flash storage arrays in the VersaStack solutions."
Enough already. The tl;dr statement is that VersaStack supports containerization.
We need to talk about Kevin – Zededa
A startup called Zededa, founded in late 2016, has closed a $3.06m seed-stage funding round to help it develop "a secure, cloud-native approach to scaling out the real-time edge applications for solutions ranging from self-driving cars to industrial robots."
And we're interested because?
Because the lead investor is Kevin DeNuccio, the ex-CEO of Violin Memory, who was at the helm when the company crashed and burned into Chapter 11 bankruptcy. DeNuccio is the founder of Wild West Capital, and also Zededa's chairman. He says:
Massive shifts in technology, including the proliferation of IoT, paves the way for industry disruption, which large incumbents tend to inhibit.
Disruption takes a combination of an entrepreneurial team with a very unique set of collective experience, groundbreaking ideas, and the ability to garner immediate traction with global industrial leaders, who can transform their business with machine learning and artificial intelligence delivered by the Edge connected IoT world. Zededa is simply one of the most promising edge computing startups out there.
Who leads this entrepreneurial team?
The CEO and co-founder is Said Ouissal, ex-SVP for worldwide field operations at Violin Memory, which means he ran sales. At a firm that failed because not enough customers bought its all-flash array products.
The other co-founder is Roman Shaposhnik, from the Apache Software Foundation. He is VP for Product and Strategy.
The two ex-Violinists, DeNuccio and Ouissal, now aim to make sweeter music at the Internet Edge. Read about it here.
Shorts
Cavium is collaborating with Microsemi Corporation and Marvell on a reference architecture for accelerating and scaling out NVMe over Fabrics (NVMe-oF). It covers both ARM and X86 CPUs and is intended to support target NVMe-based all-flash arrays (AFAs), just a bunch of flash (JBOF) and fabric-attached bunch of flash (FBOF).
Object storage-supplying Object Matrix has selected Amazon Web Services (AWS) to offer public cloud tier behind its on-premises gear. It has a hybrid cloud architecture, combining its MatrixStore product, typically deployed on-premises, and AWS storage services, S3 and Glacier.
Overland-Tandberg, a unit of Sphere 3D, announced a new RDX 5TB Removable Disk product. It's the highest capacity RDX media on the market, with a 25 per cent jump in capacity.
Rambus and IBM are collaborating to research hybrid memory systems. The work involves optimising the use of DRAM and emerging memories to create a high-capacity memory subsystem that delivers comparable performance to DRAM alone. IBM's POWER9 processor and the OpenCAPI interface are involved. Rambus has joined both the OpenCAPI Consortium and OpenPOWER Foundation.
Snowflake Computing, which supplies a data warehouse in the public cloud, built for the cloud, has a strategic partnership with Segment, the customer data platform, to provide Snowflake's cloud data warehouse on the Segment platform. That means customers can aggregate and analyse their customer data at scale to get insights into what's happening.
Hyperconverged infrastructure systems supplier StorMagic announced 400 per cent growth in its StorMagic Partner Program, resulting from quarterly deal registrations year over year and expansion into 23 new countries, since the formal channel programme introduction in January 2016.
People
Mick Bradley has left his role as VP EMEA for AFA supplier Kaminario and joined backupper ArcServe as VP of sales for EMEA. ®