This article is more than 1 year old
Apple turns hat around, sits backwards on chair, pitches iPad to schools
It comes with a pencil! You kids remember what a 'pencil' is?
Apple is trying to reclaim its status as the cool kid in class with a fresh round of products aimed at the education market.
The Cupertino music distributor chose a Chicago school as its venue on Tuesday when execs introduced a new iPad model along with a new iWork suite and a set of Apps aimed at classrooms.
Pencil works its way into more iPads
Remember when Apple founder Steve Jobs declared "nobody wants a stylus"? Truly it was a sentiment that helped shape Apple's revolutionary product design approach for years to come.
Anyway, here's another iPad with a stylus.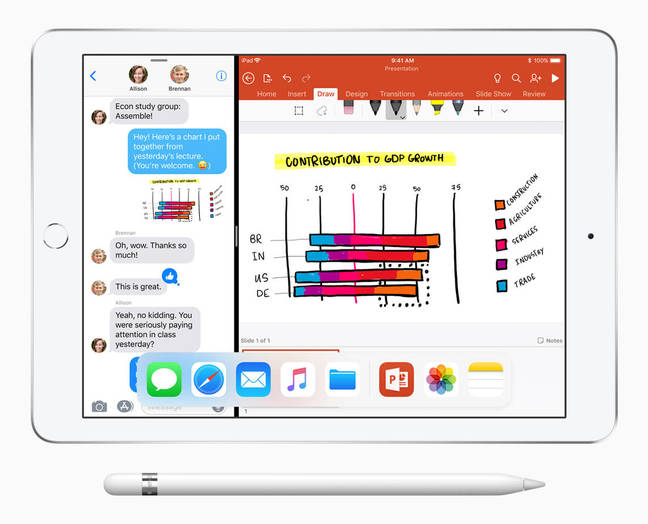 The 9.7in iPad has been upgraded to use Apple's A10 Fusion SoC and will sport a new Retina touchscreen that supports Pencil, the stylus pointer Apple had previously only offered as part of the more expensive iPad Pro line. The A10 will also bring support for augmented reality Apps and the hardware runs iOS 11.
Mobile broadband-equipped models will also use the Apple SIM, a carrier-neutral SIM that can be switched between providers without having to be removed or replaced.
The Wi-Fi only model will start at $329 with 32GB storage, though schools will get a $30 discount. The LTE equipped 32GB model will cost $459. The Pencil costs $99, or $89 with a school discount.
Cook and Co. go back to school
Dating back to the days of the Apple II, schools have been a key market for Apple. But its share of young eyes has slipped away in recent years, as low-cost Chromebooks bundled with Google services have been aggressively pitched to schools by the Chocolate Factory and its vendor partners.
Cupertino's latest push includes a new version of iWork, Apple's oft-forgotten answer to the likes of Office and G-Suite. Apple says the revamped iWork will now work with the Pencil to allow note-taking, annotations, and sketching in the Pages (word processing), Numbers (spreadsheet) and Keynote (presentations) apps.
"With Apple Pencil support on iPad, the new Pages, Numbers and Keynote apps now let students bring a whole new level of creativity to their documents, spreadsheets and presentations, while the innovative new Smart Annotation feature gives students the ability to give, receive and incorporate feedback easier than ever before," said Susan Prescott, Apple VP of Apps product marketing.
"Students can also use the built-in, real-time collaboration tools available in iWork to explore and learn together."
Apple also showcased Classroom, the client App for student iPads, and an accompanying App for teachers called Schoolwork that includes lesson planning and layout tools for creating assignment handouts. Students and teachers will also get 200GB of free storage for iCloud accounts.
The two apps are part of the larger educational push Apple has dubbed 'Everyone Can Create'. That effort will bundle the iPads with Classroom, Schoolwork, and a web portal that includes lesson plans and projects for math, English, science, and history classes.
Rather than try to win on price (the new iPads still cost about twice the starting price of Chromebook models) Apple is looking to sell schools on the whole suite of software around the new iPads.
"Creativity sparks a deeper level of engagement in students, and we're excited to help teachers bring out that creativity in the classroom," said Apple marketing head Philip Schiller.
"When you combine the power of iPad, the creativity of Apple Pencil, over a million iPad apps in the App Store, the rich curriculum in Everyone Can Code and Everyone Can Create, and unique Classroom and Schoolwork apps that support students and help schools manage technology in the classroom, we believe we can amplify learning and creativity in a way that only Apple can." ®