This article is more than 1 year old
Fatal driverless crash: Radar-maker says Uber disabled safety systems
App biz refuses to comment – but it DID write the software
Uber reportedly disabled safety systems on the autonomous Volvo XC90 that killed a pedestrian Stateside last week, according to the makers of the car's sensors.
"We don't want people to be confused or think it was a failure of the technology that we supply for Volvo, because that's not the case," Zach Peterson, a spokesman for Aptiv, told Bloomberg.
Uber declined to comment to The Register, though it did confirm that it wrote the software the car was running. Aptiv, a UK-based maker of car parts including radars and cameras, did not respond to our enquiries. The company was formerly known as Delphi Automotive. In 2015 Delphi stated, and later denied, that a vehicle it was using for self-driving technology trials was involved in a near-miss with a rival car operated by Google.
Volvo told Bloomberg it was waiting for the accident report to be published by American authorities before it would comment.
Uber's modified XC90s are fitted with front, side and rear-facing cameras "watching for braking vehicles, crossing pedestrians, traffic lights, and signage," according to a document produced by the controversial taxi app firm's Advanced Technologies Group. The cars are also fitted with a top-mounted LIDAR sensor with all-round coverage.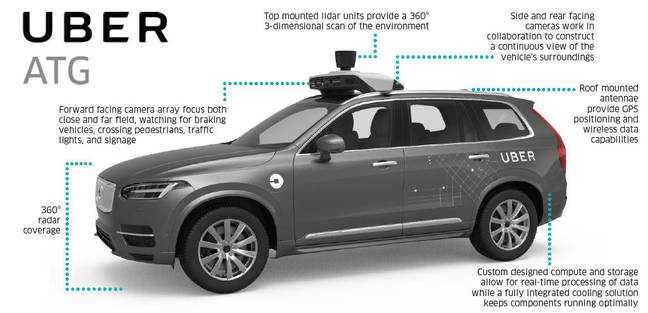 An Uber factsheet about its autonomous Volvo XC90 testbeds ... Click to enlarge
The fatal accident took place last week, when a woman later identified as 49-year-old Elaine Herzberg was hit by the car as she wheeled her pushbike across a dual carriageway in Phoenix, Arizona, USA, at night. She later died from her injuries.
Video footage of the moments leading up to the crash released online by police show Herzberg appearing out of the gloom and becoming visible to the car's front-facing camera just seconds before impact. The cabin-facing camera fitted to the Volvo also showed the driver appearing to allow her attention to wander in the moments before Herzberg became visible.
Crash investigators are expected to be focusing on why the XC90's sensor suite appeared to have failed to detect Herzberg crossing the road with her bike, particular the LIDAR as it uses lasers to see through the dark.
The relatively low-resolution camera footage released by police is unlikely to represent what the car's LIDAR and radar packages should have picked up. Whether the Uber developers who wrote the car's software suite had programmed it to slow the car down on detection of an unknown, unclassified object moving into the car's path is something El Reg expects the investigation to uncover.
Although Uber voluntarily announced it was suspending all further testing, Arizona governor Doug Ducey later suspended the company from continuing with tests on the US state's roads.
Volvo is using its own XC90 SUVs in a much more limited data-gathering trial in Sweden. ®