This article is more than 1 year old
Are you able to read this headline? Then you're not Julian Assange. His broadband is unplugged
Ecuador puts WikiLeaks boss in digital time-out over comments
Supporters of WikiLeaks are sounding alarms as founder Julian Assange has had his internet access cut to his Ecuadorian embassy broom cupboard.
The embassy – based in Knightsbridge, London – said it revoked Assange's broadband connection after he violated a promise not to say, or tweet, anything that would harm the South American nation's relations with the UK.
COMUNICADO OFICIAL | El Gobierno de Ecuador suspende las comunicaciones de @JulianAssange. pic.twitter.com/sr4kArFSxw

— Comunicación Ecuador (@ComunicacionEc) March 28, 2018
"Assange's behavior, through his messages on social media, has put our good relations with the United Kingdom and the rest of states in the European Union at risk," a translation of the statement reads.
The Ecuadorian statement did not specify exactly what it was that Assange said to bring about the measure.
Prior to his forced internet sabbatical, Assange had been tweeting on a number of topics, including criticism hurled at him from a UK government official and a link to an article on interactions between Italy's Hacking Team and Ecuador's SENAIN intelligence agency. He also retweeted articles on Germany's interactions with the Spanish government in the arrest of Catalan independence leader Carles Puigdemont.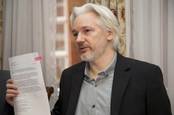 Assange fails to make skipped bail arrest warrant vanish
READ MORE
Assange has been a guest of the Ecuadorian government at its London embassy since 2012, when he was sought for questioning over sexual assault allegations in Sweden. While he says he has since been exonerated, Assange remains in the embassy for fear he would immediately be collared and sent to the US to face charges for WikiLeaks' numerous government intel dumps, if he were to step outside the building. He also faces arrest by British police for skipping bail.
Back in January, the Ecuadorian government tried to help nudge its long-term lodger out the door by making him a citizen and trying to designate him a diplomat, but that scheme was only partially successful as the diplomatic status was ultimately denied.
On Wednesday, after the government announced Assange had been suspended from the interwebs, supporters rallied in his defense.
Fellow US extradition candidate Kim Dotcom tried to organize a rally in support of Assange outside the embassy in London, and on Twitter messages of support for the leakmonger are being circulated with the #ReconnectJulian hashtag. It looks very sparsely attended.
The first protesters are arriving at the Ecuadorian Embassy in London to demand that Julian Assange will be reconnected to the Internet. #ReconnectJulian pic.twitter.com/mfHcxBSNB8

— Kim Dotcom (@KimDotcom) March 28, 2018
We're not betting on any riots tonight in London, but will provide more on this as it develops. ®