Digital rights campaigners are celebrating a small, symbolic victory, with the country's Senate voting to protect the integrity of cryptography.
The vote, which happened just before 4pm on Tuesday March 27, at least indicates that any government legislation weakening encryption won't get free passage through the Senate.
Greens Senator Jordan Steele-John moved the motion calling on the Senate to recognise the importance of encryption to public safety from online crime, whistleblower and journalist protection, and government services.
The motion asked the government to support development and use of strong encryption, resist other governments' demands to weaken encryption, and "work with law enforcement to develop alternative avenues to obtain information through warrants and targeted surveillance that does not put every Australian at greater risk of identity theft."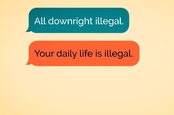 Oz gummint's de-anonymisation crime is as mind-bendingly stupid as we feared
READ MORE
+Comment: While the Senate motion doesn't have any real force it is significant because it passed "on the voices" – without a formal vote. That means that the Labor opposition (ALP), which has frequently acceded to law enforcement demands, decided to support the Greens' motion.
If the ALP voted the same way on an actual bill, Australian electoral math would mean the nation's government would need to win votes from minor parties and independent senators to deliver law enforcement organisations' desired not-backdoors.
There's little reason to think things will get that far, because "resist in public, fold in Parliament" has been so often how such debates play out, ever since the 1990s when Senator Richard Alston, aka "The Biggest Luddite in History" introduced laws to give the (then) Australian Communications Authority oversight of offensive Web content.
While it was a Liberal government that eventually passed Australia's metadata retention legislation, the proposal originated in its predecessor Labor government and had the support of at least two Attorneys-General, Nicola Roxon and Mark Dreyfus.
In spite of industry resistance, former Attorney-General George Brandis' telecommunications security laws passed last year with bipartisan support.
With Tuesday's vote, the Labor party managed a token statement of support for encryption: enough Senators were in the chamber at the time, that a vote could pass without a division, recording a formal opposition to weakening encryption. But not-backdoors are still on Australia's agenda and there's no sign the ALP will oppose them, meaning they'll likely become law if a bill ever reaches the Parliament. ®
Similar topics