Uber self-driving car death riddle: Was LIDAR blind spot to blame?
Biz scaled back number of sensors from five to just one
---
The death of a pedestrian in Arizona by an Uber self-driving car may have been the result of a blind spot caused by the use of a single LIDAR sensor on the roof.
In 2016, Uber decided to shift from using Ford Fusion cars to Volvo XC90s for its self-driving car program.
When it did so, it made big changes to its sensor design: the number of LIDAR sensors were reduced from five to just one – mounted on the roof – and in their place, the number of radar sensors was increased from seven to 10. Uber also reduced the number of cameras on the car from 20 to seven.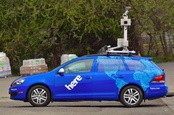 Self-driving car devs face 6-month backlog on vital $85,000 LIDAR kit
READ MORE
Removing LIDAR sensors from the front, back and sides and replacing them with a 360-degree sensor on the roof is more cost-effective but results in a blind spot low to the ground all around the car.
In a remarkable statement, given that Uber's car ran down and killed a pedestrian at night, the president of the company that builds Uber's LIDAR sensors, Marta Hall of Velodyne, told Reuters: "If you're going to avoid pedestrians, you're going to need to have a side LIDAR to see those pedestrians and avoid them, especially at night."
The use of a single LIDAR sensor is all the more remarkable given that other companies running self-driving programs use significantly more: Google-owned Waymo has six on its cars; General Motors uses five.
Run away!
Velodyne is not the only company distancing itself from Uber. The manufacturer of the software running in the car, and of radars and sensors used on self-driving cars, Aptiv said in a statement that its safety systems had been disabled on the vehicle that killed the pedestrian.
"We don't want people to be confused or think it was a failure of the technology that we supply for Volvo, because that's not the case," an Aptiv spokesman said.
Both Uber and Volvo have so far refused to comment on the accident's possible causes, with Volvo saying it is waiting for the official report. But given what we know of the accident – a pedestrian with a bike appearing close to the car and low down - the combination of a blind spot and disabled radar software could explain why the car failed to react.
While a former Uber engineer told Reuters that the company felt it had "overdone it" with the seven LIDAR sensor on the previous Ford Focus model, it may be no coincidence that it was LIDAR technology from Waymo that was at the center of an explosive court case earlier this year.
Uber fiercely denied it had any of Wamyo's LIDAR technology in its self-driving cars – although it's not clear whether the company was referring to only its single-LIDAR Volvo or to both the Volvo and its earlier seven-LIDAR Ford.
It's not just Uber that is under scrutiny following the death of Elaine Herzberg while she was jaywalking in in Tempe: Arizona's governor has been sucked into the affair following what appears to have an overly enthusiastic effort to get the company into his state.
On friendly terms
A tranche of emails published through a document request from The Guardian reveals that governor Doug Ducey went to some lengths to encourage Uber to move its program from California to Arizona, including allowing it to test self-driving cars in Phoenix back in August 2016 without letting the public know.
Uber breaks self-driving car record: First robo-ride to kill a pedestrian
READ MORE
Within a month of taking over as governor in 2014, Ducey met with Uber representatives and one of his first acts after being elected was to instruct state officials not to chase ride-sharing companies over their failure to follow taxi licensing rules.
A few months later, he signed a new bill that legalized ride-sharing services, appearing at a signing ceremony with executives from Uber and Lyft. Two months after that he held another press conference with Uber over a tiny $25,000 donation by the ride sharing firm to an Arizona university.
As well as revealing frequent and friendly interactions between the mayor, his office and Uber executives, Ducey also pressured local councilors in Phoenix to allow Uber to pick up passengers from the city's international airport.
He even personally tweeted about a related Uber food-delivery business at the request of the company's representatives. In return, Uber provided Ducey with a free workspace when he visited San Francisco.
The close relationship between Uber and Ducey paid off when California forced Uber to shut down its self-driving program after their cars were spotted running several red lights in San Francisco and it was discovered the company had never applied for autonomous vehicle testing permits.
Ducey reacted to the news on Twitter with the message: "This is what OVER-regulation looks like! #ditchcalifornia."
Kicked out of California, Uber simply drove its cars over the state line into Arizona. Ducey embraced their arrival, putting out a statement that read: "Arizona welcomes Uber self-driving cars with open arms and wide open roads. While California puts the brakes on innovation and change with more bureaucracy and more regulation, Arizona is paving the way for new technology and new businesses."
It is notable that he did not mention that his office knew Uber had been secretly testing its cars for months in his state.
Rules
In addition, Ducey's complaints about over-regulation led him to allow far more lax rules'n'regulations on self-driving programs than other states. That has meant that recent statistics on Uber's program are not available – such as the number of times self-driving cars have required human intervention.
Critics charge that Arizona's loose approach may have encouraged Uber to take more risks with its program, especially since it was behind rivals in the technology stakes. Uber's new CEO Dara Khosrowshahi had threatened to kill off the entire program, before being convinced not to.
At the time of the accident, Uber's autonomous car team was racking up testing miles in anticipation of a visit by Khosrowshahi. It had hoped to prove that the program was something he should get behind; its efforts to get to that point appear to have achieved the opposite.
Khosrowshahi has ordered the suspension of all of Uber's self-driving programs while the company reviews what went wrong. ®