This article is more than 1 year old
Stop us if you've heard this one: Job cuts at IBM
Big Blue swings the axe again, sales staff on the block
IBM is undertaking another significant round of job cuts, according to multiple sources.
The enterprise giant on Thursday is reportedly notifying a number employees they will be made redundant in the coming months, and offering some the chance to move to different positions.
This after talk earlier in the week of an impending round of layoffs and reports of looming cuts in the UK.
On job-tracking site TheLayoff, multiple posts indicate those cuts have begun, with users claiming to have been given notification of their impending layoffs from the company. Many of the users say they were in sales positions.
IBM Layoffs: We are seeing a massive spike in traffic on our IBM's Layoffs Discussion page this morning - follow the discussion at https://t.co/r35lE1jDxj#IBM$IBM #layoffs #layoff #cloud #cloudsales

— TheLayoff (@TheLayoff) March 29, 2018
"After 22 years here I am scheduled to leave in June," writes one user.
"I am in Hybrid Cloud Sales, US based, already had a call today and was given 90 days to look for a replacement job, I will not be doing it - do not want to to go thru the same game all over again in a year."
Another testimonial suggests it isn't just veteran employees being given the boot. IBM has recently taken heat for allegations it is targeting older workers for job cuts.
"I'm an 'early professional hire' - right out of college - and I was told by manager that I'm being RA'd this morning," the user writes. Resource Actioned is IBM-speak for getting laided off.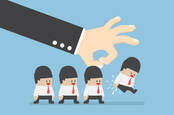 Probe: How IBM ousts older staff, replaces them with young blood
READ MORE
"Been here 6 months. Still on the payroll until 6/27 then will be getting 1 month's severance."
WatchingIBM, a group run by a former Big Blue employee, also notes multiple accounts from people who claim to have been let go.
"Aware of at least 6 more people on the team, including manager," wrote one former employee from the analytics division. "And the rumor is about 25 per cent of the team is hit."
So far there is no word on the number of people who have been let go, and no Worker Adjustment and Retraining Notification (WARN) notices from IBM have been filed in New York or California. However, multiple posts from both groups suggest a significant portion of the sales staff has been axed.
"Sales is getting hit hard especially over 50. My achievement was good, but now they are eliminating the territory," says another person whose job was cut.
"They are guessing it could be 20-30 per cent of sales force."
IBM declined to comment on the layoffs, but did note to The Register that it had just announced a plan with French president Emmanuel Macron to open a new AI research center in France that will create 400 new jobs.
Sacre (big) bleu. ®