This article is more than 1 year old
Shaking up the Nad Men: Microsoft splits up into 'cloud' and 'edge'
Redmond shifts resources to focus on emerging tech
Microsoft boss Satya Nadella has announced a business reorganization at Redmond to go along with his executive shake-up.
In a now-public e-mail to staff on Thursday, Nadella outlined how Microsoft will operate with two major divisions - one focusing on end-users with 'experiences and devices' and another that will handle the 'cloud and AI' side of the business.
The shift reflects what has been a larger move in the consumer and enterprise computing markets for Microsoft as the concept of desktop client and server software has given way to cloud services across multiple devices. It also marks the next chapter in Nadella's ongoing rebuild of Microsoft in the post-Ballmer era.
In making the change, Nadella invoked Conway's Law, a 1960's adage that holds a company's software will be structured in much the same way as the company itself. In other words, if Microsoft wants to build services that function seamlessly across many devices, they can't be walled up into individual business units for each platform and product.
"The purpose of this team is to instill a unifying product ethos across our end-user experiences and devices," Nadella said.
"Computing experiences are evolving to include multiple senses and are no longer bound to one device at a time but increasingly spanning many as we move from home to work and on the go."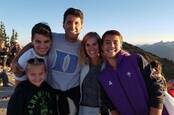 Microsoft's Windows supremo Terry Myerson is now Terry BYE-rson
READ MORE
More practically, the shake-up will see Terry Myerson depart and have his Windows and Devices division merged with Office under Rajesh Jha in what will be the 'Experiences and Devices' unit. Think of it as the organizational equivalent to Microsoft 365. Some of the Windows team will also operate under the Azure group (more on this later).
Most of the actual product groups will stay intact as Panos Panay (devices), Joe Belfiore (Windows), Kudo Tsunoda (new experiences and technology), and Brad Anderson (enterprise) will handle their respective divisions within the new group.
On the other end of split will be Scott Guthrie, who is now in charge of a broad "Cloud + AI" operation at Microsoft. The name is fairly self-explanatory, as Guthrie will head up development of Microsoft's cloud services and its AI and augmented reality research and development. Harry Shum was named as the head of the research unit, which will focus on developing and fine-tuning new AI products.
The cloud unit will include Azure, lead by new executive VP Jason Zander who will also oversee a 'Windows platform' unit run by the trio of Harv Bhela, Henry Sanders and Michael Fortin. Business AI will be merged with business applications under James Phillips, while Eric Lockard will lead a cloud + AI division and Alex Kipman will handle the cloud side of the mixed reality business and Eric Boyd will handle AI cognitive services- things like Azure's machine learning tools.
In a move that will help Elon Musk sleep a little better at night, Nadella is also creating an AI ethics unit headed up by Shum and Microsoft president and top lawyer Brad Smith. Dubbed AI and Ethics in Engineering and Research (AETHER), the project will have the joint aims of preventing Skynet and covering Microsoft's ass from a legal standpoint.
"Among other steps, we are investing in strategies and tools for detecting and addressing bias in AI systems and implementing new requirements established by the GDPR," Nadella said of the new project.
"While there is great opportunity, ensuring we always act responsibly for our customers and partners will continue to be a hallmark of our work."
Nadella told employees he would be releasing more plans around the re-org next week in a special company Q&A session. ®