This article is more than 1 year old
Microsoft Store adds 'private audience' apps to its Store
A velvet rope for digital tat, to help with betas, promos and maybe Windows 10 S
Microsoft has tweaked its Store to allow distribution of apps to a "private audience" of named users.
Developers will be able to create "known user groups" by listing email addresses associated with Microsoft accounts.
"Only people in the groups you define who are authenticated with a Microsoft account will be able to see the app in the Microsoft Store", Microsoft's advised.
Apps can't go private once they've been made public, so Redmond's recommended the new setting for betas or promotions to select groups.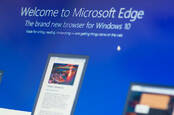 Windows 10 to force you to use Edge, even if it isn't default browser
READ MORE
Microsoft already offers Microsoft Store for Business and Education, which lets users distributed select apps to their users.
Private Audiences appears to have the potential to offer apps to select users beyond an organisation, without having them sign up for an account associated with an organisation. Which could make for an interesting option under Windows 10 S, the Windows-Store-apps-only cut of Windows 10 that Microsoft thinks will one day dominate the business desktop.
The concepts behind private audiences aren't entirely new: Microsoft currently offers "flight groups" for controlled distribution of apps, but does so without involving its Store. ®