This article is more than 1 year old
SYN-SYN-ACK - Your networking news roundup has arrived!
Aruba's AI moves, Marvell and Nvidia vehicle tech, and yes, the Open Networking Summit
Network admins: unpatched MikroTik routers are being scanned by a botnet again.
Netlab360 is one of the organisations to identify increasing scans on Port 8291, and says it's associated with a new Hajime malware attack.
MikroTik acknowledged the attack on Twitter:
It has come to our attention that a a mass scan for open ports 80/8291(Web/Winbox) is taking place. To be safe, firewall these ports and upgrade RouterOS devices to v6.41.3 (or at least, above v6.38.5)

— MikroTik (@mikrotik_com) March 27, 2018
The "Chimay Red" attack code the malware-slingers have used was patched against last year.
Aruba adds AI
Aruba has launched an analytics offering called NetInsight. It's 2018 so it offers AI network performance analytics and assurance solution.
Part of Aruba's Mobile First Architecture, NetInsight is an anomaly-watcher that provides response and optimisation suggestions "based on data that is specific to user connectivity and RF performance attributes".
The company also announced the acquisition of South African AI outfit Cape Networks. Cape Networks' focus is sensor-based service assurance for SaaS, application, and network services.
Aruba's release says: "By applying a sensor-based and network agnostic approach to service assurance, Cape Networks proactively tests the availability and performance of services and applications, alerting IT professionals of issues before they impact the user or the business."
Nvidia, Marvell share driver's seat
Uber's tragic fatal accident in Arizona put Nvidia's autonomous vehicle tests on hold, but hasn't dented the company's long-term enthusiasm for the technology.
Marvell Semiconductor this week announced its secure automotive Ethernet switch is to be integrated into the Nvidia DRIVE Pegasus Platform.
The switch silicon, Marvell's 88Q5050, includes features like trusted boot, deep packet inspection, and low power consumption.
Nvidia pitches the 320-trillion operations per second DRIVE Pegasus platform at "no human required" Level 5 autonomous operations.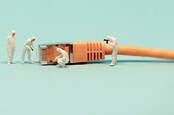 Brace yourselves, netadmins, there's a new cable on the market
READ MORE
The Ethernet chip gives Pegasus DRIVE a secure connection to sensors, cameras, controllers and the like, with blacklisting and whitelisting on all Ethernet ports.
LogoWatch time at ONS
It's five years since Juniper Networks first opened up its Contrail controller code as OpenContrail, but it seems the branding still associated the product too much with its inventor.
As part of its news dump from the Open Networking Summit, the Linux Foundation announced that the long project of moving all code under its purview was complete, and has renamed the project Tungsten Fabric.
Other Linux Foundation open networking news
To wrap this up as briefly as possible, here's the other major ONS announcements from the Linux Foundation:
TM Forum opens its APIs
The TM Forum, an 850-member telco industry organisation, joined in the ONS fun, announcing a partnership with – you guessed it! – the Linux Foundation.
The TM Forum said it wanted its open APIs adopted by other open source projects. It has more than 50 REST-based APIs, and claimed they're already in use by 4,000 developers in 700 companies.
Following its agreement with the Linux Foundation, the forum has now applied the Apache 2.0 license to the APIs so developers on Linux Foundation projects can use them. ®