On-Call Welcome once more to On-Call, The Register's weekly reader-contributed story of tech support trauma.
On-Call dipped into its mailbag in the hope of finding an Easter story, but found a cracking Christmas story sent by chap named "Peter".
"An irate customer called me on Christmas Eve, incandescent that a letter had gone to a customer with a spelling mistake," Peter told us.
The mis-spelled word was "Manger", as in a food trough for livestock. Mangers feature prominently in the Christmas story, as baby Jesus was bedded down in one for lack of more luxurious accommodation.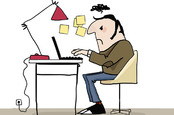 User asked why CTRL-ALT-DEL restarted PC instead of opening apps
READ MORE
But the customer was appalled at their desired word – "Manager" – being mangled and told Pete his incompetence and failure to install a spell-checker meant his support contract was over, effective immediately.
"I pointed out that 'Manger' is a real word, wished her a Merry Christmas, and pulled the plug on the contract myself," Peter told us.
Three months later, the customer was back, "begging for forgiveness."
"We doubled her charges, but she agreed," Pete told us. But things went pear-shaped again and "A year later, we binned her forever."
If you've fired a customer, write to tell us why and perhaps you'll pop up here on a future Friday. ®