Microsoft's Windows supremo Terry Myerson is now Terry BYE-rson
Top Redmond exec defenestrates self amid biz reshuffle
Windows supremo Terry Myerson is departing Microsoft after decades of service, according to a memo sent to all employees today by CEO Satya Nadella.
Nadella is attempting yet another reorganisation at the software giant, creating two new engineering teams to take the business into the future. Familiar names such as Panos Panay and Joe Belfiore remain in place, with some subtle changes in role.
Myserson, however, will "pursue his next chapter outside Microsoft" after a transitional period. He has spent 21 years with the company, joining after Bill Gates decided to buy him out, and not in the style of the Simpsons.
"It is an emotional day for me as I look toward starting my next chapter outside of Microsoft in a few months," Myerson wrote online. "Satya and I have been discussing this for some time, but today it becomes real. Actually sharing the news with the team, customers, and partners has been an incredibly intense experience."
When Microsoft bought Intersé Corporation, the data mining firm Myerson co-founded, in 1997 he and then-CEO Bill Gates bonded almost instantly. Both were Diet Coke addicts but, more importantly, they both respected each other's knowledge and commitment to technology.
Thank you, @tmyerson, for your leadership and your contributions. You've made a lasting impact on Microsoft. I look forward to sharing many more Diet Cokes with you in the future. https://t.co/mi4yMwma6f

— Bill Gates (@BillGates) March 29, 2018
Myserson moved to Redmond's operation and worked on the Site Server team with a much-younger Satya Nadella, before moving to the Exchange group in 2001, where he would remain for the next seven years.
Silk purses and sow's ears
But in 2008 he accepted a poisoned chalice – heading up the new Windows Mobile team as Redmond tried yet again to take its desktop dominance and apply it to the mobile sphere. Myerson bought the first-generation iPhone (which he still has) and tried to apply the same design and software principles to Microsoft's attempts in the sphere.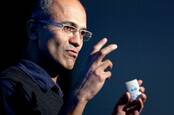 Shaking up the Nad Men: Microsoft splits up into 'cloud' and 'edge'
READ MORE
In his resignation post, Myerson admitted that the attempt was flawed, not least because it was based around the godawful Windows CE, Or Wince as it was known in the industry. He also bears some responsibility for the demise of Nokia, after helping to set up the doomed partnership between the Finns and Redmond.
As we've seen again and again at Microsoft, failure isn't always a barrier to advancement and in 2013 Myerson was promoted to head up the operating systems team, which included Windows, Xbox and the moribund Mobile team.
Since then he has become the public face of the most important part of Microsoft and has traveled the world selling Redmond's next big ideas. As a hack you always knew Myerson would give a good presentation, and for amusement we would take side bets on how long it would take him to work in a mention of his kids into the presentation. But he has decided enough is enough.
"After working full time pretty much nonstop since I was 18, missing many a kids birthday while traveling for work, I'm ready for a break," he said.
"I will now take some time to train for a half Ironman, learn to play the piano or guitar (my daughter is voting guitar, but having listened to Joe Belfiore and Chuck Friedman play piano on so many late nights, I'm leaning that way), learning more about genomics and robotics which fascinate me, and spending some overdue quality time with Katie and our kids." ®