This article is more than 1 year old
Watchdog growls at Tesla for spilling death crash details: 'Autopilot on, hands off wheel'
Automaker coughs, coughs info on Apple techie's fatal prang
The US National Transportation Safety Board (NTSB) has expressed displeasure with electric carmaker Tesla for releasing information relevant to a fatal Model X crash in California last month without alerting the agency beforehand.
The NTSB began investigating the killer smash last week.
"The NTSB is unhappy because parties to an NTSB investigation are required to inform the NTSB of information releases before doing so," said Christopher T. O'Neil, chief of media relations for the agency, in a statement emailed to The Register today.
He pointed to a form signed by those involved in the inquiry.
"The uncoordinated release of investigative information can affect how other parties work with us in the future so we take each unauthorized release seriously," said O'Neil. "However, this release will not hinder our investigation."
On Friday, Tesla published a blog post about the accident, which occurred on US Highway 101 near Mountain View, California, on the morning of Friday, March 23. Tesla said it is working with investigators to understand what happened but now has more information recovered from the vehicle data logs.
Though the crash investigation remains ongoing, the carmaker nonetheless implied the deceased driver, identified as Apple engineer Walter Huang, may share some of the blame because he was using the car's Autopilot system and did not have his hands on the wheel.
Drivers are supposed to keep their hands on the steering wheel even when Autopilot is engaged. Think of the technology as a super-cruise-control, rather than a self-driving brain.
"The driver had received several visual and one audible hands-on warning earlier in the drive and the driver's hands were not detected on the wheel for six seconds prior to the collision," Tesla said.
"The driver had about five seconds and 150 meters of unobstructed view of the concrete divider with the crushed crash attenuator, but the vehicle logs show that no action was taken."
Following a 2016 fatal Tesla Model S crash in Florida in which Autopilot played a role, Tesla modified Autopilot to make its hands-off-wheel warning harder to ignore.
Tesla made a point of defending the safety of its Autopilot system, citing a government study that found the technology reduced crash rates by 40 per cent. The car maker also said Autopilot reduces the likelihood of being involved in a fatal accident by factor of 3.7.
Software bug or careless driver?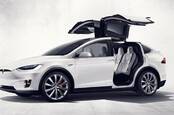 Tesla crash investigation causes dip in 'leccycar firm's share price
READ MORE
Tesla's defense coincides with a report from San Francisco, California, ABC affiliate KGO-TV in which Huang's brother, Will, claimed that Walter had complained to his Tesla dealer about how his car swerved unexpectedly several times when passing the area where the accident eventually occurred.
The carmaker did not state a definitive cause for the crash but it pinned blame for the severity of accident on California's poorly maintained infrastructure.
"The reason this crash was so severe is because the crash attenuator, a highway safety barrier which is designed to reduce the impact into a concrete lane divider, had been crushed in a prior accident without being replaced," Tesla said. "We have never seen this level of damage to a Model X in any other crash."
O'Neil from the NTSB said the agency is investigating all aspects of the crash, including reports about the driver's stated concerns about Autopilot.
"We will work to determine the probable cause of the crash and our next update of information about our investigation will likely be when we publish a preliminary report, which generally occurs within a few weeks of completion of field work," he said.
Autopilot is one thing – you're supposed to stay in control of a vehicle while it is activated. Meanwhile, on Tesla's website, Model S and X customers have the option to buy "Full Self-Driving Capability" as a $3,000 add-on to its $5,000 Enhanced Autopilot package.
April Fools Day was yesterday, @Tesla https://t.co/5sb8Zc5dg4 pic.twitter.com/oOxKGlcIYO

— The Register (@TheRegister) April 2, 2018
"The system is designed to be able to conduct short and long distance trips with no action required by the person in the driver's seat," it promises, subject to regulatory approval. ®
PS: Someone has posted video on YouTube claiming to show Tesla's Autopilot being confused by painted lane markings...
Watch a Tesla autopilot itself right up into a traffic barrier on the southbound Ryan in Chicago, because the I-90 lane line is more freshly painted than the I-94 line.: https://t.co/CBkdsjYPjw

— Thomas H. Ptacek (@tqbf) April 2, 2018