This article is more than 1 year old
Intel outside: Apple 'prepping' non-Chipzilla Macs by 2020 (stop us if you're having deja vu)
Plus: Samsung overtakes in semiconductor revenues
Apple is once again reportedly working on switching out Intel processors for its own homegrown, presumably 64-bit Arm-compatible, CPUs in Macs.
The changeover could happen as early as 2020, according to Bloomberg today.
iPhones, iPads and other iThings use Arm and Apple-designed chipsets to run software, while the desktop kit uses Intel's x64 silicon. There is apparently a project within Apple, codenamed Kalamata, to craft desktop-grade Arm-compatible processors, along with a macOS port, allowing the biz to craft a uniform architecture across all of its product lines.
Also, using its own chips – as seen in the iPhone and iPad – will be cheaper than Intel's big-cost-big-performance lines, it is assumed.
You may be suffering from what feels like deja vu. We've reported on Apple toying with Arm-powered Macs in late 2017, early 2017, and as far back as 2012. It is understood porting the operating system to Arm is done and dusted: the next stage is creating a processor capable of hitting desktop and workstation levels of performance, and porting applications or emulating x86 well enough to run existing code on the host architecture.
Apple has experience with this, running PowerPC apps on x86 Intel Macs, for example, via its Rosetta toolkit.
Intel shouldn't be too worried – Apple volumes are tiny, relatively speaking, at an estimated one per cent of Intel's profits – however, Chipzilla's share price is down 9 per cent right now on the rumors. The chipmaker declined to comment on speculation or its customers.
Speaking of chip world domination
Meanwhile, Samsung's semiconductor revenues overtook Intel's in 2017, thanks to storage silicon sales, according to a new report.
An IHS Markit study out late last month stated the semiconductor market was worth a massive $429.1bn last year, up 21.7 per cent on 2016's $352.6bn.
The largest supplier was Samsung, with a 14.5 per cent share at $62bn, up 53.6 per cent on the year, mostly due to DRAM and NAND pricing.
The jump was enough to help Samsung overtake Intel, just, with Chipzilla raking in $61.4bn, under-growing the market with an 11.7 per cent rise on the year. The third-placed supplier was SK Hynix, with $26.6bn, up a huge 81.2 per cent on its 2016 total of $14.7bn. Thanks for the memories!
IHS Markit tabulated the top ten suppliers' numbers. and we charted them: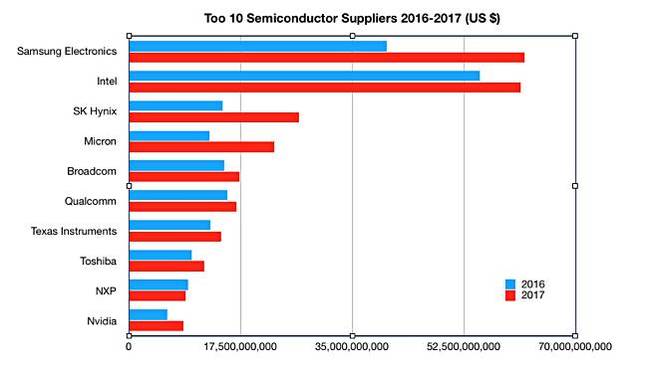 Micron also enjoyed a strong rise, up a strong 79.7 per cent on its $12.7bn 2016 revenues to $22.8bn in 2017.
The other suppliers all under-grew the market, except Nvidia with its 42.3 per cent GPU-fueled rise to $8.7bn.
Toshiba was one of the under-growers, with its 19.8 per cent rise to $11.8bn in 2017.
The influence of DRAM and NAND revenues is indicated by the semiconductor market only growing 9.9 per cent, if those two categories are taken out of the equation.
IHS Markit points out that there was a 33.4 per cent 2016-to-2017 growth in the data center semiconductor market, in which processors have more prominence. In this sub-category, Chipzilla was top, with revenues almost double those of second-placed Samsung. ®