This article is more than 1 year old
Floyd Mayweather-endorsed cryptocoin startup knocked out by fraud allegations
Centra Tech raised more than $30m from investors
Two men have been arrested on suspicion of spinning a "web of lies" to sell unregistered crypto investments.
The US Securities and Exchange Commission has alleged that Sohrab "Sam" Sharma and Robert Farkas, who co-founded "financial services startup" Centra Tech, made "ill-gotten" gains of $32m from thousands of investors through their initial coin offering in September last year.
However, the SEC said that the claims the pair made in their advertising push – in which boxer Floyd Mayweather endorsed the product on Instagram and Twitter – were "simply false".
The duo were yesterday charged with orchestrating a fraudulent ICO, in breach of anti-fraud and registration provisions of federal securities laws.
"We allege that Centra sold investors on the promise of new digital technologies by using a sophisticated marketing campaign to spin a web of lies about their supposed partnerships with legitimate businesses," said Stephanie Avakian, co-director of the SEC's division of enforcement.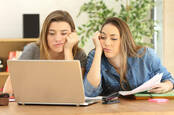 Students: Duh, of course we're blowing our loan bucks on crypto coins
READ MORE
"As the complaint alleges, these and other claims were simply false."
Such claims include Sharma and Farkas's assertion that funds from the CTR token they were selling would be used to build a suite of financial products.
The pair said that users would be able to instantly convert cryptocurrencies into US dollars or other legal tender through a debit card backed by Visa and MasterCard.
"In reality, the SEC alleges, Centra had no relationships with Visa or MasterCard," the US body said in a statement.
The SEC also claimed the pair "created fictional executives with impressive biographies, posted false or misleading marketing materials to Centra's website, and paid celebrities to tout the ICO on social media".
Avakian's co-director Steve Peikin came down hard on the use of advertising puff, saying: "Endorsements and glossy marketing materials are no substitute for the SEC's registration and disclosure requirements as well as diligence by investors."
The charges come amid growing concerns about fraudulent initial coin offerings and follows repeat advice from the SEC that investors should not trust celeb endorsements, pointing out that they may be part of a paid promotion.
The SEC's complaint has been filed in federal court in the Southern District of New York and seeks permanent injunctions and the return of the allegedly ill-gotten gains, as well as barring the pair from serving as public company officers or directors and from taking part in any other security offerings. ®