This article is more than 1 year old
Facebook want us to believe banning Putin's troll army safeguards Russian democracy
Stop laughing, this is serious: Zuck's also decided only Europeans deserve GDPR-grade data protection
Facebook's No Good, Horrible, Very Bad Year continues , with The Social Network™ enduring another day of explaining its own errors.
The day started with Founder Mark Zuckerberg posting new of "an important step to protect the integrity of elections around the world" that he pitched as among "our techniques to stay ahead".
But in true Facebook style, the step was actually reactive: Zuckerberg's big action was "taking down more than 270 pages and accounts operated by a Russian organization called the Internet Research Agency (IRA) … targeting people living in Russia."
"This Russian agency has repeatedly acted deceptively and tried to manipulate people in the US, Europe, and Russia -- and we don't want them on Facebook anywhere in the world," Zuck wrote.
Two small problems there. Firstly, the pages already made it through Facebook's supposedly democracy-safeguarding shields. Second, it matters little that professional trolls act in Russian elections given that Russian authorities excluded candidates from the poll on spurious grounds and left president Putin as the only viable candidate.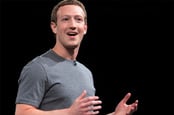 That long-awaited Mark Zuckerberg response: Everything's fine! Mostly fixed! Facebook's great! All good in the hoodie!
READ MORE
So well played, Zuck. You've saved a corrupted sham democracy from its own paid trolls. That'll show your critics you take your responsibilities seriously.
Except for the small fact that Facebook's also been shown to be negligent, again.
New York Magazine last week discovered that when users download their Facebook data, videos they never posted and/or deleted remained intact. The Social Network™ has explained that away as a "bug" it's since corrected.
Lastly, Zuckerberg told Reuters that Facebook has no plans to apply the European Union's General Data Protection Regulation (GDPR) to users beyond Europe's borders.
As GDPR is generally considered the gold standard for personal privacy, and Facebook is embroiled in a privacy scandal, that's not a good look.
Zuckerberg did tell the newswire that Facebook is "still nailing down details on this, but it should directionally be, in spirit, the whole thing". Whatever that means. ®