Facebook can't count, says Cambridge Analytica
Firm says it had 30 million records, not the 87 million Zuck's copped to, and didn't use any in the US election
Cambridge Analytica has disputed Facebook's claim that it had access to 87 million records from The Social Network™.
"Today Facebook reported that information for up to 87 million people may have been improperly obtained by research company GSR," the company said in a statement. "Cambridge Analytica licensed data for no more than 30 million people from GSR, as is clearly stated in our contract with the research company. We did not receive more data than this."
The statement also says: "We did not use any GSR data in the work we did in the 2016 US presidential election." Which rather pours cold water on the "Cambridge Analytica is wot won it for Trump" theory behind much of the interest in the company.
The firm also says it did all it could to comply with Facebook's rules about the data harvested from the infamous personality quiz that hoovered up data about users' friends.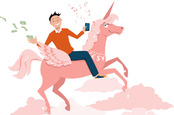 $0.75 – about how much Cambridge Analytica paid per voter in bid to micro-target their minds, internal docs reveal
READ MORE
"When Facebook contacted us to let us know the data had been improperly obtained, we immediately deleted the raw data from our file server, and began the process of searching for and removing any of its derivatives in our system," the statement says. "When Facebook sought further assurances a year ago, we carried out an internal audit to make sure that all the data, all derivatives, and all backups had been deleted, and gave Facebook a certificate to this effect."
But that certificate may not have been worth the paper it was written on, as Cambridge Analytica's statement ends by saying "We are now undertaking an independent third-party audit to demonstrate that no GSR data remains in our systems."
Which leaves the world wondering who to believe: a big data firm whose CEO has been caught saying it practices black arts, or Facebook whose reaction to any error is always to say that it's shocked – just shocked - that anyone would ever think to pervert its good intentions.
Or as Woody Allen put it: "More than any other time in history, mankind faces a crossroads. One path leads to despair and utter hopelessness. The other, to total extinction. Let us pray we have the wisdom to choose correctly." ®