Microsoft Office 365 and Azure Active Directory go TITSUP*
Multiple regions report mass outage
---
Updated It seems Microsoft's Office 365 is having an unscheduled nap as users across the world report difficulties logging into the administration portal.
Office 365 is having issues since 04:51 AM ESThttps://t.co/3GGuh8EZs8
RT if you're also affected #office365down pic.twitter.com/ixHgD7YHv1

— Outage Report (@ReportOutage) April 6, 2018
The official Office 365 status Twitter account confirmed that Microsoft was investigating "access issues" in the Asia Pacific region at 10:18 GMT, but by 10:25 the outage had hit Europe as well.
Office 365 is having issues since 10:25. https://t.co/UfkRqH93YO RT if it's down for you as well #Office365down

— DowndetectorUK (@DowndetectorUK) April 6, 2018
The technical error prevents a login through the Office 365 administration portal and affects both business and home users.
Microsoft has done little to calm panicked administrators. A support ticket, MO133518, somewhat ominously stated:
This issue could potentially affect any of your users if they are routed through the affected infrastructure.
Frustrated punters are also reporting difficulty accessing Office 365's email service.
Our emails are down with the Office 365 issue! If you have anything urgent you need to chat to us about, please call us on 020 7458 4500 while we keep our fingers crossed for a quick fix 🤞#Office365Down

— ON Broadcast Comms (@ONbroadcast) April 6, 2018
The timing of this incident, following on from much trumpeting by Microsoft about the new security features introduced for Office 365 subscribers yesterday, is unfortunate.
It would appear that Redmond has opted to secure user data by, er, removing access to it entirely. Clever.
Access to the Azure Management Portal is also on the sick-list, with Microsoft's Azure status page reporting authentication errors in Asia, Europe and North America for customers attempting to use resources dependent on Azure Active Directory.
Assuming worried customers can actually get to the Azure status page. At time of writing it had also succumbed to the Friday malaise.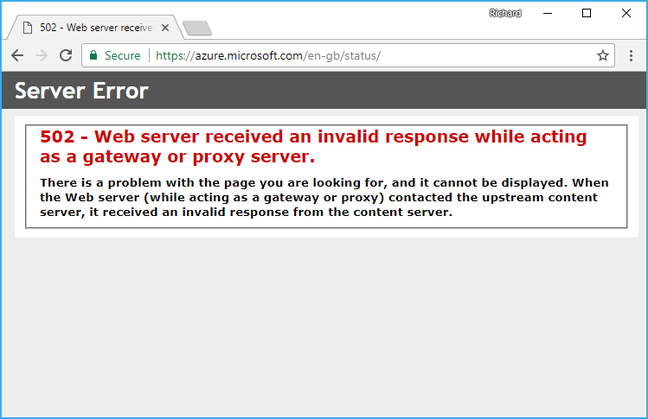 The Register has contacted Microsoft for comment. ®
Update
A Redmond spokesperson got back to us at 1430 GMT to say: "We've fixed the issues some customers experienced accessing some services."
* Turning Its Toes Skywards Under Pressure.