This article is more than 1 year old
Accenture, Capgemini, Deloitte creating app to register 3m EU nationals living in Brexit Britain
Great, now we just need to agree the policy
The Home Office has inked a deal with a coterie of consultancies and system integrators to create a digital app intended to register the three million EU citizens in the UK post-Brexit.
The department confirmed to The Register that Accenture, BJSS, Capgemini, Deloitte Digital, PA Consulting and Worldreach had been signed up to develop the digital application that EU citizens will use to apply for settled status. It will launch later this year.
It is intended to condense the 85-page permanent residency application into a 10 to 20-minute process involving an applicant scanning in their passport and national insurance number to an online or phone app.
Maike Bohn, spokeswoman for campaign group the3million, told The Register the app was a good idea in theory, but said the Home Office was putting the cart before the horse by developing something ahead of an agreement with Europe.
"We know from experience with big tech roll-outs that they can be prone to glitches. What happens if there is an error and someone is rejected?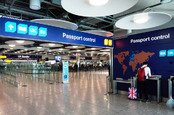 Details of 600,000 foreign visitors to UK go up in smoke thanks to shonky border database
READ MORE
"If someone is refused because of one mistaken click they can instantly lose their right to live and work in the UK, with disastrous consequences. There is a technology problem and there is a people problem – we need to make sure as much care goes into supporting the users than will no doubt go into developing a good app."
One of the biggest concerns around the project is a lack of clarity in policy. One insider said: "The technology, one would hope, would come after the policy is done and dusted and, last I checked, there was still considerable uncertainty over where that had all got to and who was going to decide and when.
"The sexiest app in the world is no good if it doesn't align to policy. Whatever that turns out to be."
The digital system was ready to be road-tested in January but the Home Office has had to go back to the drawing board after the prime minister warned there would be no automatic right to remain for EU citizens coming to the UK after 29 March 2019 – according to The Guardian last month.
The groups running the programme will work in small scrum teams together, but our insider was sceptical that the Home Office could manage that set of conflicting interests. Although the project will involve some original work from Accenture, he said.
Another source said it was a positive step that the Home Office intended to use off-the-shelf technology to build the app rather than attempting to code it all in-house.
He estimated the cost would be relatively low for a government IT project, at around £10m-£15m. "I guess the complexity will be integrating with other databases," he added. ®