White House: Is it OK to hijack, shoot down, or snoop on drones? Er ... asking for a friend
And with no public scrutiny? D'ya think that's possible?
The Trump administration wants US Congress to extend the military's drone-downing powers to the Department of Homeland Security and the Department of Justice, even as it backs broader commercial deployment for unmanned aircraft.
The proposed rules, obtained by the Washington Post, would give civilian agencies powers similar to those accorded last year to the Department of Defense. They would allow DHS and the Justice Department to destroy or commandeer drones, and to intercept drone communication in defense of national security.
And they would exempt any actions taken along these lines from legally mandated disclosure requirements, at a federal, state, or Native American tribal level, such as the Freedom of Information Act.
According to unreleased legislative text, terrorists have been using drones overseas to drop explosives overseas, and law enforcement officials are concerned that the same tactics will be employed in the US.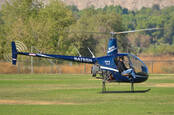 Helicopter crashes after manoeuvres to 'avoid... DJI Phantom drone'
READ MORE
For the past few years, various laws against drones – also known as unmanned aerial vehicles/systems (UAV/UAS) – have been proposed and enacted as the potential for abuse has become clear.
For example, Oregon in 2013 passed a law prohibiting drone flights over privacy property at altitudes at or below 400 feet without permission. Since then, the zeal for drone leash laws has spread and presently there are bills in states across the US that attempt to address potential drone problems.
In 2015, the FAA Modernization and Reform Act of 2012 went into effect, establishing rules for commercial drones. That same year, the FAA said any drone over 250 grams (0.55 pounds) had to be registered with the FAA. A court challenge overturned that requirement in 2017 for non-commercial drones, but later that year, President Trump signed legislation reinstating the registration requirement.
Terror in the skies
In January, the Department of Transportation said over one million drones have been registered in the US. The agency expects five times as many by 2021.
The US military has proven the lethality of drones over the years and other forces have readily adopted the technology. With drones being used to ferry drugs over borders and boundaries like prison walls, and to fire guns in online videos, concern has been mounting that drones will be used to kill civilians in the US as they've been doing elsewhere in the world.
FBI director Christopher Wray last year warned the Senate Homeland Security and Governmental Affairs Committee that he expects terrorists will attempt to use drones in the US.
And in November last year, a DHS advisory warned, "Some terrorist groups overseas are using battlefield experiences to pursue new technologies and tactics, such as unmanned aerial systems and chemical agents that could be used outside the conflict zones."
On May 7, the Department of Transportation is expected to announce participants in the UAS Integration Pilot Program to increase the commercial use of drones, but to drop boxes rather than bombs.
The program will establish innovation zones where services like drone package deliveries can be tested under conditions not presently allowed, such as flights over populated areas that are outside the line of sight of a remote pilot.
As the Department of Transportation describes the White House-backed initiative, "President Donald J. Trump is making American aviation great again."
And also, if Congress agrees to the proposed DHS rules, a bit more secretive. ®