Review Huawei has brought forward the release of its P20 Pro flagship to capitalise on the interest generated by its triple-lens shooter. This is the first Chinese phone that demands – well, screams – to be compared to the market leaders. With a price to match – £799.
Although Huawei is pouring millions into marketing (including bundling free Bose headphones for early birds) the price is a lot to ask of anyone. The P20 Pro has exactly the same sticker price as the best Android camera phone, Google's Pixel 2 XL, and Apple's iPhone 8 Plus (64GB model), and about halfway between Samsung's Galaxy S9+ (£869) and Galaxy S9 (£739).
The question is: is it worth it?
Overall Huawei brings minor incremental improvements across the board to what was a strong product, and one eye-catching, show-stopping feature: long exposure low-light photography.
When I covered this in depth last week, I found that the long exposure (aka "Night" mode) is a remarkable and unique feature, producing results that would normally require a tripod. Using interpolation, the software removes artefacts caused by camera movement, pocketing the benefits of a long exposure. But set against this, in many everyday situations, the phone's aggressive image post-processing created some fairly average results: over-sharpening, over-saturating and even odd colours. (Even in Huawei's own promotional photo samples there's some bizarre colouring – see the orange snow outside the church below).
This is odd, since the physical capabilities of the P20 Pro's triple-sensor setup (40MP+12MP+8MP) should far exceed the Pixel 2 XL's single 12MP shooter. But Google's post-processing algorithms are far superior. If Huawei's were one third as good, it would have a superior product.
Don't get me wrong, some of the images taken are stunning. But since it is demanding to be compared with the best, and is not being sold as a value product ("as good as but cheaper"), we need to be fair. The runaway rating that this device has achieved in the DxOMark ratings – 10 points clear of any smartphone – have also inflated expectations. They need to be taken with a large bag of salt.
Since it is software that is causing the problems, a fix could be applied via an OTA update to the camera app – so this judgement isn't definitive. Who knows? It might be out of date in a month. But out of the box I found that Samsung and Google devices offer better balanced photos in most situations, most of the time. I'd urge Huawei to making the fix its top priority: the job isn't done.
So let's see what your £799 gets you.
Design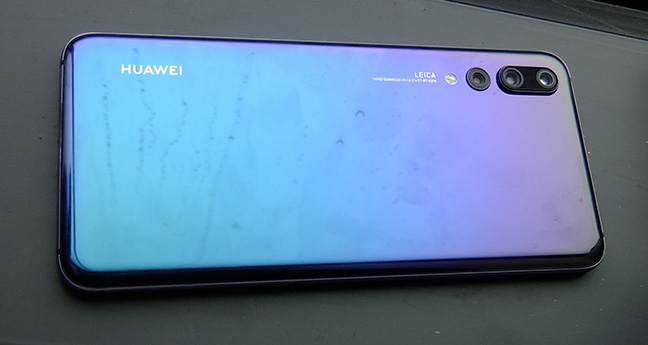 The P20 Pro's gradient display picks up smudges and reflections: the blobs here are rain on an adjacent window
The P20 Pro is a handsome beast, with minimal top and bottom front bezels around a sumptuous 6.1-inch ("18.7:9") OLED display. Huawei boasts that, like the latest Galaxy, it supports HDR10 content, which has a wider colour gamut than regular HD.
An oblong fingerprint sensor is squished into the bottom bezel, resulting in some accidental gestures at times, particularly when you configure the sensor to replace the Navigation Bar. Using this sensor with your thumb does mean balancing the phone precariously, but I find a front-mounted finger sensor means I can use a flip case with the device – rear sensors can be a nightmare when the flip of the case locks the phone again.
My unit comes in a handsome two-tone "Twilight" colour combo, where the rear glass panel graduates from a purple to a blue.
Huawei retains the very useful infrared sensor from the P10 Pro and the Mate series, but dispenses with the traditional audio jack. Both P20s are advertised as having a "Notch" – so 2018 – but I fear this might backfire.
Unlike the iPhone X "Notch", the P20 series "Notch" is entirely optional, and for my money the phone looks a lot smarter with the Notch turned off. How so?
Well, you can think of the Notch as an intrusion into usable display area – or the reverse: Huawei has endowed the display with two "rabbit ears", discontiguous portions that an app can use inside the top bezel. But you tell me which in practice you might prefer.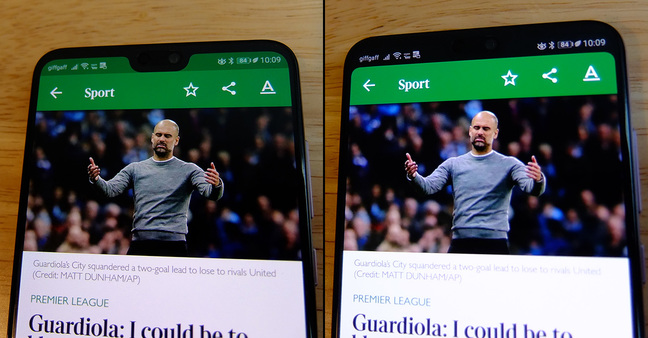 Click to enlarge
Look how small that top bezel is: the "ears" end up being used for notification and status icons and not much else. Now compare it to the 2014 design Apple is still flogging, with its vast top bezel. In real life, I much preferred the Notchless mode and quickly forgot the Notch was there at all.
The stereo bottom-firing speakers sound good, but not great, and don't achieve much stereo separation. As with all IP67-waterproofed phones, volume has been sacrificed.
The phone has plenty of power in its Kirin 970 chipset and 6GB of RAM. The only hiccups I noticed were typing into Firefox text fields, where the phone appeared to be drunk. But this might be Mozilla, which hasn't given the mobile browser the slimming treatment that has improved the desktop browser so much.
What I find inexplicable is the removal of support for a microSD card. Every Huawei phone I've used to date has reserved one slot for dual use: either a second SIM or a microSD card. I can understand the choice for budget phones in emerging markets like India, but it makes little sense to remove features for a premium product.
UX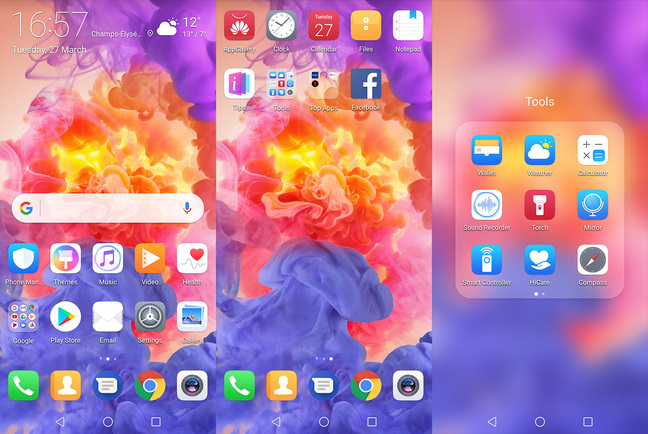 Click to enlarge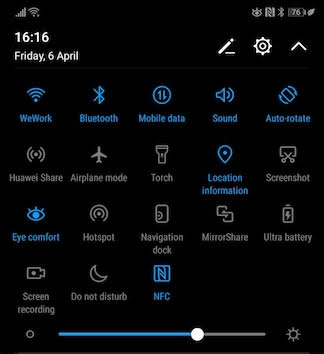 Phone bloggers have been beating up Huawei for its clotted-cream EMUI skin for as long as it has been selling phones in the West. Its response has been to tone down the more annoying, intrusive nags, but otherwise completely ignore the bloggers. After all, Huawei sold 153,000,000 phones last year. Who knows best what people really want from a phone? Huawei reckons it does.

The P20 Pro settings – also available in black
The long-awaited overhaul of its EMUI skin may never happen. But that said, EMUI isn't so bad. Now up to 8.0, the skin supports a dark mode and a traditional app drawer, if you want it. I should warn that Nova Launcher isn't usable – it bombs out – but Microsoft's Launcher and Simple Launcher Pro and 5 worked fine.
Huawei boasts that its software stays in "as-new" condition for a long time. It also claims to optimise startup times. Android, particularly Samsung's flavor of the OS, seems prone to slow down after a few months, as the caches and log files build up. Huawei has always included a useful phone optimiser but this is being done constantly in the background. It seems to work.
Then again, Huawei needs to improve its reputation for regular platform updates. It is something I've raised with execs before. Aside from one or two OTA deliveries early on, you'll be lucky to get many more.
For the first time I've noticed Huawei creep into the own-brand services space, demanding that you back up on its servers and use its cloud storage. It doesn't say where the data is going. Given the heightened awareness of personal data usage after the Facebook stock price collapse, perhaps it needs to do more explaining. Thankfully the low-brow games that litter Huawei's Honor brand aren't bundled here; in fact, the bundle is pretty minimal, with the obligatory Zuck spyware (Facebook and Instagram apps) included – but these can be fully uninstalled, unlike on some ROM-burned bundles.
Imaging
Now the most controversial part. DxOMark puts the P20 Pro 10 points ahead of any rival the outfit has tested, and after an hour or so with a preview of the phone, I called the results "gobsmacking". Yet many of the sample shots I took last week underwhelmed. You're entitled to wonder what the heck is going on here.
It's a real curate's egg. The phone's triple-sensor setup and post-processing allows for multi-second exposure. Both the regular P20 (with its conventional 20MP+12MP setup) and the Pro benefit from the latter. The P20 Pro boasts a third telephoto sensor for lossless zoom. This results in some remarkable night-time shots. In one test setup the Pro could discern the shape of the test subject (albeit vaguely) while comparison shooters drew a complete blank. Literally. And many of the images were top drawer, justifying Huawei's entry into the top class.
But to save you reading the deep dive, many of the images I took (particularly nature shots) were underwhelming by the highest standards, delivering a profusion of over-sharpened detail, and lacked character and warmth. Even in low light Samsung's regular Galaxy S9 can do a very fine job, while the long exposure adds too much light to the image.
I'll add one or two examples to the many included in the previous piece.
These two images were taken from the same spot. It is a remarkable illustration of how much the long exposure ("Night") mode can capture.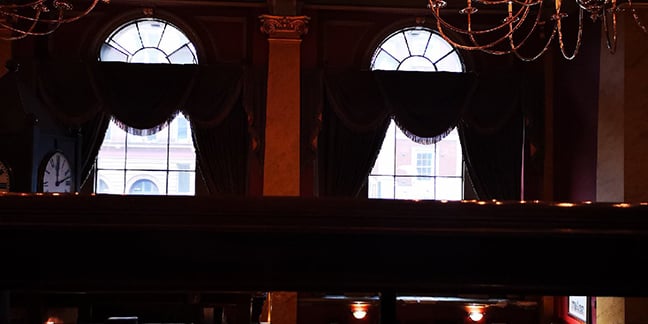 Note how much more detail the Night mode image captures. But this can introduce wildly unrealistic colours. The night sky here (image zoomed and cropped from original) is far too bright.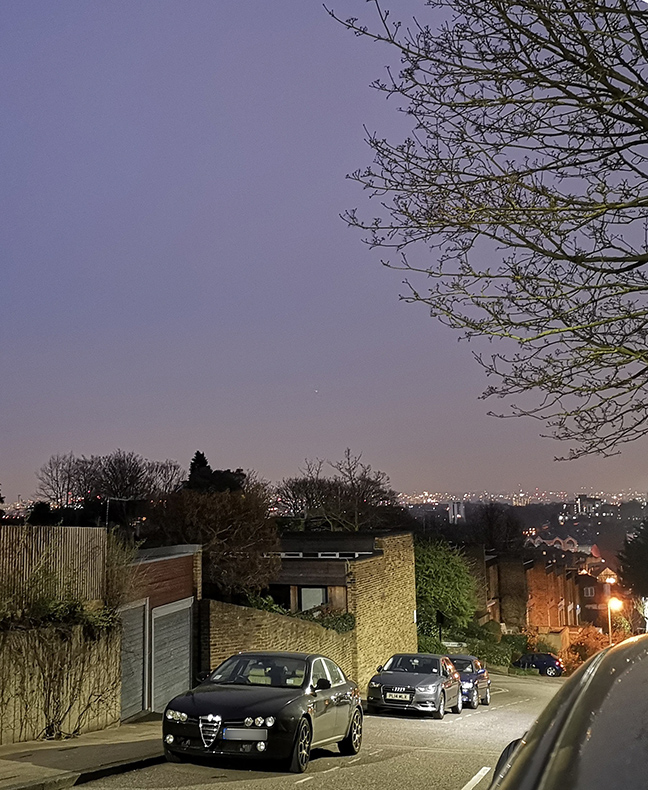 Whacky saturation and colour choices are not limited to Night Mode, where it can often be forgivable. I noted that the aggressive AI object recognition was more of a hindrance than a help – a case of the company wanting to show off. This quick snap of a Nihari was taken with the "Food" filter off, but it was saturated red beyond recognition. The picture below has been treated to show what it looked like in real life: the predominant colour of this dish is brown (beef stock), and there's only a hint of red.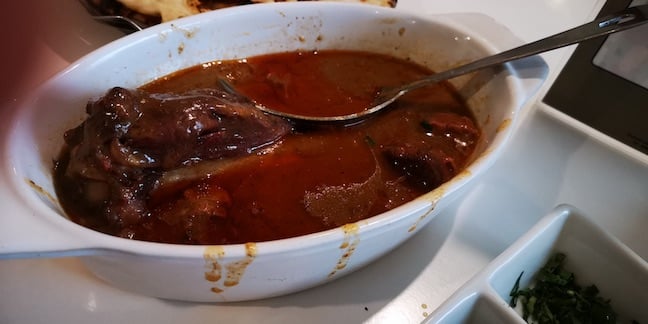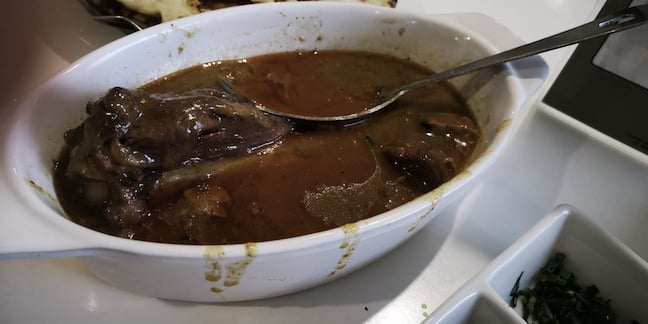 Interestingly if you eat street food in Huawei's home base of Shenzhen, you'll find a lot of dishes that resemble that the top photo, with surface pools of oil and chilli.
And it's not just me. Remarkably, even in Huawei's own promotional images – this one was plucked off their website – there's whacky colouring. The snow outside the church is orange. Has there been a murder?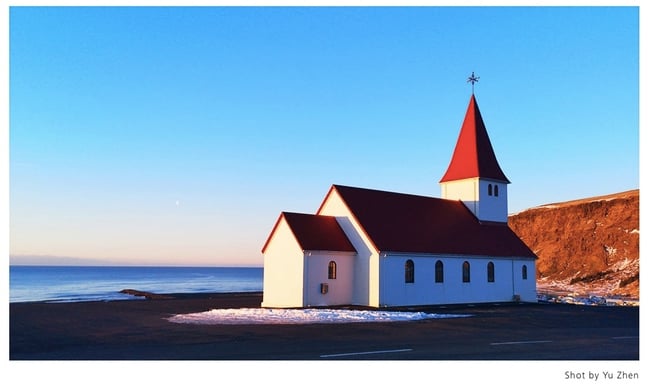 Click to enlarge
The potential is there for the P20 Pro to be a great camera phone, and for anyone upgrading from a two-year-old phone, it is going to be a revelation. But Huawei must address the post-processing, some of this is quite ridiculous.
Disappointingly, the Pro underperforms by failing to optimise video higher than 1080 resolution. HD is fine, but shooting 4K loses all stabilisation, resulting in a real old-school wobbly nightmare.
You're rarely more than two clicks away from one of the speciality settings, such as HDR or slow motion, but then you're still two clicks away, and if it's something you need to grab quickly this is fiddly. For example the P20s will capture "super slow motion" (in 720k) via the Slow Motion option – you toggle between 4x, 8x and 32x (ie, 960fps) once you're there.
Summary
In a few short years Huawei has established a strong reputation for value, and for getting the basics right. I've yet to use one with a sub-par display or poor battery life, and I know it's going to perform as well as any phone. That's all true here, radio reception was good and the battery life – from a 4,000mAh sealed pack – is quite terrific. Over almost a fortnight, I didn't end a day with less than 35 per cent of the charge remaining, and usually I had 45 to 65 per cent remaining. Most days included a fair amount of snapping.
Overall, there's plenty to like here. But by putting itself in the £800 category we have to judge it alongside its £800 rivals. And in too many situations the Pixel 2 XL and Samsung S9 turn in more agreeable, better balanced results. ®