This article is more than 1 year old
2018's Lenovo ThinkPad X1 Carbon laptop is a lovely lappie
All you'd expect from a premium laptop - except the stupid power brick
Hands-on review Lenovo has just-about nailed this year's X1 Carbon laptop, which save for a couple of minor annoyances will impress.
I say that having found the 2017 X1 a mixed bag that boasted exceptional battery life, but was glitchy, frustrating and just didn't feel very robust.
This year's model repeats the battery experience: I was able to get through a day's work without worries, then take in a streamed movie in the evening. Powering up the machine uses its single USB-C port. There's also HDMI, a pair of USB 3.0 ports and two Thunderbolts aboard, so devoting the USB-C slot to power won't send you into dongle hell.
Lenovo should be doing better than the utterly unlovely giant Kit-Kat-sized power adapter, as its mains cable is bulky, inflexible and unhelpfully reduces the computer's portability. Apple has done power bricks well for years and HP Inc has followed suit. Lenovo needs to catch up on this small-but-important element.
One thing Lenovo does very well is the TrackPoint, the tiny micro-joystick nestled into ThinkPad keyboards since the time before touchpads. It's again a welcome inclusion here, even though this year's trackpad is pleasingly large, responsive, accurate and clickable. The keyboard – another Lenovo specialty - was a joy. I was touch-typing swiftly and accurately within minutes: the machine won't impair that aspect of productivity in your early hours of use, or thereafter.
Performance was just fine under the non-strenuous workloads a Register hack requires: lots of open Word windows, 20-plus Chrome tabs, streaming music and occasional Netflix. A Core i7-8550U at 1.8Ghz should do that, while 16GB of RAM never hurt anyone.
The screen's lovely and crisp and large: thin bezels fit a 14-inch display into a form factor that fits cases intended for 13-inch machines. The machine's speakers sound struggled with sibilant sounds, leaving cymbals sounding sloppy and whispered scenes difficult to hear. But who uses a laptop's speakers these days anyway?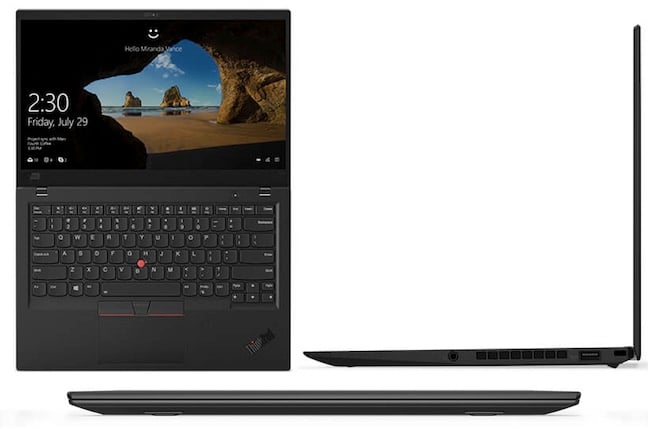 Lenovo's 6th generation X1 Carbon lappie
My other gripe from last year – fit and finish – has been addressed. This year's model doesn't taper towards the front edge as dramatically as the 5th-gen machines, so while the result feels a little thicker it is also more sturdy. There's still a discernible crack between parts of the case, but it was no longer possible to get my fingernails in and I didn't feel digging would do any damage. 2018's machine is also sturdy: I gave it some pretty stern twists and it held its shape and didn't creak or feel like it would suffer much damage under higher loads.
The screen's hinge lets the laptop lie flat, a configuration in search of a useful scenario if ever there was one.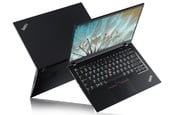 Lenovo literally has a screw loose – so it's recalled flagship Carbon X1 ThinkPads
READ MORE
Lenvo's matte black finish may frustrate as it makes fingerprints stand out. But as I looked at the test unit Lenovo lent me, I realised the smudges upset me because I was enjoying the machine so much.
When I do hands-on tests it's typically at a conference so I have to put the machine through its paces in a situation I know involves being opened and shut a lot, offers different light conditions and requires me to work on my lap, at a desk and in a few scenarios in-between. Because I still have to keep The Register going during all this, I also bring my current stable work machine to make sure I can remain productive and I usually reach a point at which I go back to my familiar machine with relish because I feel familiarity will improve my productivity.
But I wanted to keep using this year's X1 for as long as I could.
If only it were a little cheaper: US$2,579.00 or £2,221.59 is a premium price and while performance was good, it wasn't light years beyond the substantially cheaper MacBook Air that is my workhorse. But the Lenovo promises all-day-and-beyond battery life, something the Mac has never delivered. If cheaper versions of the laptop with a Corei3 or i5 match the i7-powered machine's performance, I'll argue forcefully when my next PC refresh point rolls around. ®