This article is more than 1 year old
In a sorry state again: Zuckerberg dusts off apology playbook in mea culpa to Congress
Facebook boss shamefaced (again) for flouting basic concepts of privacy (again)
Facebook supremo Mark Zuckerberg will apologize to US Congress this week as his website tries to clean up yet another privacy scandal.
The social network founder will face American lawmakers on Wednesday and, according to his prepared remarks [PDF] made public Monday by the House Committee on Energy and Commerce, Zuckerberg will once again repent and vow to make things right
"We didn't take a broad enough view of our responsibility, and that was a big mistake," Zuck will tell the panel of congresscritters.
"It was my mistake, and I'm sorry. I started Facebook, I run it, and I'm responsible for what happens here."
The comments come as the House of Reps will find itself presiding over Facebook's role in Cambridge Analytica obtaining personal information on tens of millions of Americans, via a Facebook quiz app, and then using that data to target voters in crucial demographics with ads during the 2016 US presidential election.
How effective these ads were is up for debate. However, the fact is millions of Facebook profiles were scraped and their contents resold, and an attempt was at least made to influence or radicalize those folks identified as voters in key areas, hence the ongoing uproar.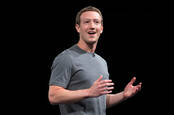 Facebook dynamites its own APIs amid data slurp scandals, wrecks data slurp applications
READ MORE
Zuckerberg will also address the use of fake news posts on Facebook by Russian propaganda groups in an effort to meddle with that same election. Facebook estimates that about 126 million of its users were fed content produced by the now-indicted members of the Internet Research Agency, while an additional 20 million people were fed propaganda through Instagram.
"There's no question that we should have spotted Russian interference earlier, and we're working hard to make sure it doesn't happen again," Zuck will tell the committee on Wednesday before going into detail on what measures Facebook plans to take to address this latest privacy crisis.
Here we go again...
If the apologies sound familiar, it's because Zuckerberg has amassed a fair amount of experience delivering mea culpas for playing it fast and loose with the personal information of the people that use his site at this point.
For example, let's go back to late 2011, when Zuck was facing heat from America's trade watchdog, the FTC, after Facebook was found to have repeatedly deceived its users in how their data was being collected and flogged to advertisers. Facebook has long maintained it doesn't directly sell its addicts' data – it just let advertisers and app developers have it for free so they can better target specific communities on the website.
"Even if our record on privacy were perfect, I think many people would still rightfully question how their information was protected," Zuckerberg said those long years ago.
"It's important for people to think about this, and not one day goes by when I don't think about what it means for us to be the stewards of this community and their trust."
If you want to go back further in Zuckerberg's apology history (prior even to the infamous "dumb fucks" exchange), there's an eerily familiar tone in a Harvard Crimson piece from 2003.
In the article, a then-unknown undergrad Zuck has had to respond to the revelation that his proto-Facebook site "Facemash" was caught scraping pictures from Harvard's residential House directory sites and using them for a series "hot or not" votes.
"Issues about violating people's privacy don't seem to be surmountable. The primary concern is hurting people's feelings," Zuck wrote at the time.
"I'm not willing to risk insulting anyone." ®
PS: Zuckerberg also will appear before a joint Senate committee panel on Tuesday. Meanwhile, Facebook will start alerting 87 million of its users whose information was obtained by Cambridge Analytica.