This article is more than 1 year old
Russian regulator asks courts to disconnect Telegram
It'll be do svidaniya to secure messaging app if Roskomnadzor succeeds
Russian telecoms and mass communications regulator Roskomnadzor has filed a lawsuit it hopes will see secure messaging app Telegram turfed out of the country.
Moscow's been unhappy with Telegram for some time, dating back to a mid-2017 dispute over the company's non-compliance with requests to register as a telecoms service provider. The service and the Kremlin have also tangled over access to encryption keys.
The latter dispute is at the root of this latest episode, which has seen Roskomnadzor seek to have Telegram booted out of Russia for non-compliance.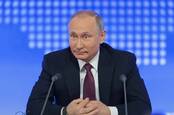 Vlad the blockader: Russia's anti-VPN law comes into effect
READ MORE
Telegram has previously asserted it doesn't have any keys to hand over, so can't comply with Russian orders to do so.
Roskomnadzor has also accused Telegram of allowing terrorists to communicate in secret, but Telegram responded by saying it has no interest in restricting free speech. The company has also faced criticism from Iran, which has asserted that it's used by dissidents. China's banned it outright, but it's also hard to reach the likes of Facebook and Twitter inside the Middle Kingdom.
Telegram's made no public statements about the new lawsuit. ®