This article is more than 1 year old
Another week, another fistful of storage nouns comin' at ya like a breeze block to the frontal lobe
From carbon nanotubes to cloud data grandstanding
A concentrated storage blast has blown in after the Easter break, with substantial product announcements from Datrium, Nexenta and Rubrik. Other news from Intel, Nantero and Kingston was backed up with Huawei SPC-1 benchmark results, several funding events and exec moves.
Grab yourself a cup of your favourite caffeinated or non-caffeinated beverage and scan this roundup of storage news spanning the storage universe from carbon nanotubes through SSDs and software to SaaS data management services.
Datrium
This hyperconverged systems vendor with its shared storage/distributed controller design (aka open converged) has released v4.0 of its DVX software.
It includes:
Oracle RAC support on a 4-node vSphere cluster
Peer Cache Mode provides VM fault tolerance
FIPS 140-2 validated mode with Datrium Blanket Encryption
Built-in auditing for HIPAA, PCI, and SOX-type compliance controls
Python-based Software Development Kit (SDK) with RESTful API framework for customers to automate DVX functions
SaaS-based VM backup and recovery service called Cloud DVX
Free one-year trial Cloud DVX cloud backup subscription with up to 1TB of AWS capacity
Cloud DVX is a cloud-native instance of DVX running in AWS that offers backup and recovery services for VMs running in DVX on-premises. It has global cloud deduplication (claimed 6:1 dedupe ratio) and forever incremental backups.
Datrium claims DVX enables up to 10 times more VMs to run at lower latency than HCI, 10 times faster VM restores than scale-out backup products, and, with Cloud DVX, backs up to cloud with up to 10 times lower AWS fees than many cloud backup providers.
DVX 4.0 Software is available immediately for $12,000 per server/compute node. Upgrades to DVX 4.0 are available at no charge for customers with a valid support agreement. Cloud DVX recovery service is also available immediately, and requires DVX Software 4.0. US list pricing for the service is $6,000 per 5TB (up to 30TB effective) of S3 capacity per year.
Excelero and NAB 2018
The National Association of Broadcasters' 2018 show for the media, entertainment and technology industry runs in Las Vegas from 7-12 April.
Excelero (NVMesh storage) and Pixit Media will be showing a software-defined system, Pixit Media PixStor with Excelero NVMesh designed to accelerate uncompressed 4K, 8K and beyond workflows for Media & Entertainment (M&E) organisations. The two say it provides over 20GB/sec of centralised direct I/O performance over Ethernet per client for video streaming applications, without the need for buffering.
Intel will show its 3D NAND SSDs and NVME SSDs with a 16K format application. Joint Intel and Excelero work on Technicolor's "Any-K" film and TV production deployment involves GPFS (Spectrum Scale) storage. Find out more at Intel's booth #SU3110.
Technicolor is now an Excelero customer.
Quantum will show the integration of Excelero's NVMesh with its StorNext shared storage and data management platform, with 4K, 8K and 16K examples at booth #SL8511.
Huawei financials
This Chinese vendor reported results for 2017, with revenues of $92.5bn, 16 per cent more than 2016's $79.95bn.
Net profit was $7.3bn, 28 per cent up on 2016's $5.7bn.
The three main business units' revenues were:
Carrier – $45.7bn, up 2.5 per cent annually
Consumer – $36.4bn, up 31.9 per cent
Enterprise – $8.4bn, up 35 per cent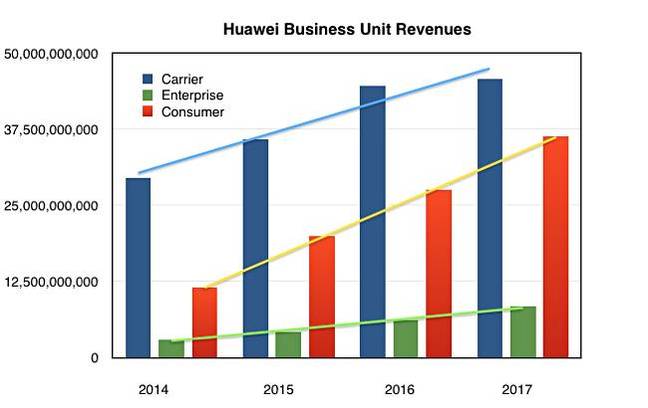 Huawei business unit revenues ($US) from 2014 to 2017.
The Enterprise BU is the poor relation here, and its results are not helped by US government antipathy towards Huawei.
Huawei's SPC-1 lead
Huawei has the fastest storage array available on the market judging by its 6 million SPC-1 benchmark record that showed up in independent tests.
The Storage Performance Council ranked the system's work rate with its SPC-1 that measures the performance of a block-access array with a single workload.
A Huawei OceanStor 18800F v5 array scored 6,000,502 SPC-1 IOPS with an average response at 100 per cent load of 0.941 secs.
The previous record of 5,120,098.98 IOPS was set in June 2016 by a 2-node DataCore Parallel Server system. It cost $506,525.24 whereas this Huawei array cost $2,794,955.1, more than five times as expensive.
For that money you get an OceanStore 18800F v5 array in a 16-active-active controller configuration, with four OceanStor engines, each with four controllers and four SAS-connected drive enclosures containing 24 x 900GB SSDs; 384 SSDs in total and 346TB of total capacity. This array was connected by 8Gbit/s Fibre Channel to 28 Huawei host servers servers.
The 18800F can scale out to 16TB of cache and 3,200 SSDs; it is a high-end, VMAX and DS8000-class array system
In the top SPC-1 results of a million IOPS or more there are 11 systems. Five of them are from Huawei with three from DataCore, and one each from NetApp, Hitachi and Kaminario.
DataCore costs are fractions of the other suppliers' prices. It gets its SPC-1 grunt by using parallel IO in its arrays whereas the others haven't adopted DataCore-type technology. If they did then the SPC-1 benchmark results could become mind-bogglingly high.
If Huawei and DataCore keep on playing SPC-1 leapfrog, at this rate we might see a 10 million SPC-1 score in 2020. It is a pity that other high-end array suppliers such as Dell EMC (VMAX), IBM (DS8000) and Infinidat (Infinbox F6000) don't submit their arrays to SPC-1 benchmarking and provide an independent view of how their performance compares to high-end Huawei, Hitachi and NetApp arrays, and the more affordable DataCore ones.
We are entering an era of NVMeoF arrays, using RDMA-type access to data from server hosts and these are much faster to access than the Fibre Channel SAN arrays seen in the SPC-1 rankings. The Reg Storage Desk imagines that an NVMeoF array will simply blow away any existing SPC-1 tested array, if it can be validly tested within the SPC-1 rules.
Intel improves Optane SSD caching situation
Intel is enabling Optane SDD 800P and 900P drives to be used as caches in front of disk drives with its 8th generation i5+, i7+ and i9+ branded Core processors. Previously the drives could only be used as caches in front of boot drives, typically SSDs these days, providing little effective acceleration.
Now they can be used to accelerate a disk drive, on which could be stored large files for gamers or content creators. Intel says its has updated its RST (Rapid Storage Technology) caching algorithm WHQL driver code to v16.0.2 to enable this caching extension.
This should radically accelerate frequent access to disk-stored files once they are in the Optane cache.
This requires the use of Intel's 300 and 200 chipsets. The 900P has 280GB and 480GB capacity levels, is available in AIC and U.2 form factors, and its random read/write IOPS numbers are up to 550,000/500,000. The sequential read/write bandwidth numbers are 2.5GB/sec and 2GB/sec.
The smaller and slower 800P has 58GB and 118GB capacities in the M.2 2280 form factor. Its random reads and writes IOPS are both 250,000, and its sequential read/write bandwidths are 1.45 GB/sec and 640 MB/sec respectively.
The new RST WHQL driver should be available on Intel's RST Download web page soon.
Kingston
Kingston Technology has introduced the A1000 gumstick (M.2 2280) format SSD as a notebook/desktop SATA SSD replacement/alternative. This is single-sided and has 240GB, 480GB and 960GB capacities using 3D TLC NAND. The interface is NVMe over PCIe 3.0 x 2 lanes.
It runs up to 120,000/100,000 random read/write IOPS and to 1.5/1GB/sec sequential read/write bandwidth.
The endurance is 150TB (240GB), 300TB (480GB) and 600TB (960GB) TB written, there is a five-year warranty and a 1 million hours MTBF rating.
It's said to have near-SATA SSD pricing and provides double the speed of a SATA SSD and up to 20 times hard disk drive speed.
In comparison, WD's Black gamers' M.2 SSD runs at 500,000 and 400,000 random read/write IOPS and 3.4/2.8 GB/sec sequential read/write bandwidth. You pays more; you gets more.
Nantero
Carbon nanotube-based memory (NRAM) developer Nantero says it has had a $29.7m funding round with participation from the China National IC Fund, SMIC, a financial institution and five undisclosed strategic investors. Total funding is greater than $120m.
Nantero says its existing strategic investors include:
Dell Technologies Capital
Cisco Investments
Kingston Technology Corporation
CFT Capital, a Chinese semiconductor investment firm
Schlumberger, which provides technology for reservoir characterization, drilling, production, and processing to the oil and gas industry
Three more strategic investors are said to be leading global companies in the semiconductor industry, which sounds like companies such as Intel, Samsung and SK Hynix.
NRAM-based products in development include:
A multi-Gb DDR4-compatible non-volatile standalone memory product with speed comparable to DRAM and a lower price/GB than DRAM
Standalone cache chip for SSDs or HDDs, which removes the need for battery backup and enables larger cache capacity
Embedded NRAM device that can scale to 5nm in size and operate under high temperature in automotive and similar IOT situations
Fujitsu Semiconductor and Mie Fujitsu Semiconductor will be the first customers to bring NRAM to market in 2019.
NexentaCloud for AWS
NexentaCloud for Amazon Web Services is a cloud-native storage offering based on Nexenta's original NexentaStor product, which is an open-source software-defined storage platform for on-premises deployments.
It is designed to help integrate applications running on AWS with on-premises server platforms. NexentaCloud comes with snapshots, cloning, thin provisioning and data compression. It also includes data replication and analytics to keep track of data, and is configured for AWS instances. The storage analytics, provided through the NexentaFusion product, work across on-premises and cloud environments.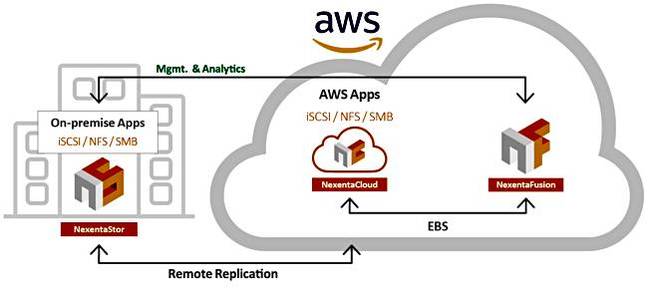 According to Tarkan Maner, Nexenta CEO and Chairman, "NexentaCloud for AWS lets organizations, especially those who have historically utilized on-premises NAS and SAN server platforms, continue their journey to a hybrid cloud environment."
Use cases include disaster recovery, backup and data protection in the cloud. There is storage management as well as analytics with NexentaFusion in AWS, which is deployed from the AWS marketplace via an AMI.
NexentaCloud for AWS runs in an EC2 compute instance and is available now via the AWS Marketplace. Get more information here.
Rubrik's Polaris
Rubrik is hyping up a new Polaris product saying it "revolutionizes the data management market, specifically backup/recovery, archival, and DR, by providing a global policy framework, workflow orchestration, and deep data intelligence as cloud-delivered applications."
We're told it "represents the next giant leap in Rubrik's evolution as the Cloud Data Management company." Big and bold claims.
It is a cloud-resident SaaS data management offering, said to deliver a unified system of record across all business applications and data for seamless security, compliance, and governance.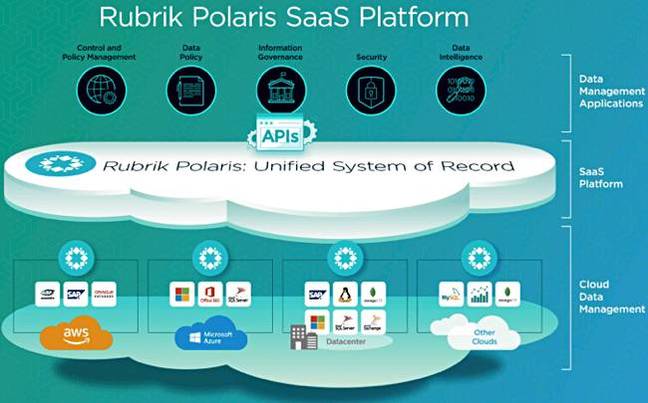 Polaris schematic
Think of it as a management software layer that looks downwards at on-premises, AWS and other cloud systems' enterprise applications, such as Cassandra, SAP, MySQL, Oracle and Rubrik's Cloud Data Management data protection products, and builds up metadata about them. It includes native search, workflow orchestration, and a global content catalog, which are exposed through an open API architecture.
Looking upwards, Rubrik and other developers will use the APIs to deliver data management applications for data policy, control, security, and data/system intelligence.
Rubrik has a Polaris GPS application using these APIs to provide a "control and policy management console across globally distributed business applications, which are locally managed by Rubrik's Cloud Data Management (CDM) instances." It runs in a Rubrik cloud.
Polaris GPS includes a dashboard, analytics and reporting, a global system activity view and data management policies to produce records to demonstrate global SLA compliance for data spread across on-premises and multiple clouds.
On the one hand this is, merely, a SaaS management tool to look after multiple Rubrik on-premises and public cloud instances, and very useful for that, but hardly revolutionary or a giant leap.
On the other hand, as user Lev Goronshteyn, CTO of CarePoint Health, says: "As we continue to expand our Rubrik footprint across all our hospitals, Polaris GPS provides one simple and intuitive interface delivered through SaaS to monitor and analyze all our physical, virtual, and cloud applications."
Rubrik says Polaris GPS enables you to "track all your physical, virtual, and cloud apps and data instantly."
So it could be a single converged management facility to manage all, literally all, your enterprise applications and data though local (on-premises or in-cloud) Rubrik CDM product. That would be revolutionary.
But this is not, literally, all your physical, virtual, and cloud apps and data. It is data managed by Rubrik, secondary data stored for backup, DR and devOps use. Also, Rubrik has said it has no interest in managing primary data; another reduction in what "all" your data means.
Polaris GPS builds its metadata store by interrogating Rubrik CDM instances; these are its window, its only window we understand, into that portion of a customers's data handled by Rubrik.
The Polaris GPS product is in a customer test phase and not available yet.
We asked data management company Druva, which is already in the SaaS area, what it thought, and Curtis Preston said: "Druva congratulates Rubrik on its announcement ... of Polaris and welcomes them as they begin their move to a SaaS model. Enterprises face the growing challenge of storing more data in complex, heterogeneous cloud environments, and the market is pivoting towards a cloud-based data management-as-a-service solution to unify, protect and manage data.
"Druva announced unified data management last year with our Druva Cloud Platform, so we see the Polaris announcement as further validation of our approach. While Rubrik Polaris GPS manages the various Rubrik deployments their customers have, the Druva Cloud Platform manages a single global datastore for each customer, and does not require bricks of any kind – virtual or otherwise. This approach reduces cost and complexity, while increasing security and scalability."
Violin gets a new conductor and temporary head violinist
Violin Systems has a new executive chairman who is taking on the CEO's day-to-day tasks during said CEO's medical absence.
The all-flash array company is the renamed and bankrupt Violin Memory, which is now owned by the Soros Group and out of bankruptcy. Its CEO is Ebrahim Abbasi and he is unfortunately on medical leave.
The new chairman is Mark Lewis whom we last heard of when Formation Data Systems, a startup he co-founded, closed down in May last year. Lewis was Formation's chairman and CEO. Before that he had been been an entrepreneur in residence at EMC Ventures and Khosla Ventures. His earlier career included time as an EVP and CTO at EMC, and general manager of Compaq's storage business.
Lewis said: "I am excited about the market opportunity for Violin as the extreme performance storage leader for the enterprise. We have a powerful proven product line, strong intellectual property and an experienced and motivated team. Focusing on our core strengths of extreme performance, reliability and customer experience, we continue to transform mission-critical applications and enable many more."
+Comment
Violin Systems is absent from the industry standard and objective Storage Performance Council SPC-1 benchmarks.
The arrival of NVMe over Fabrics with its treatment of shared all-flash block storage as effectively remote DAS, with SSDs being accessed by RDMA, will redraw the performance map. Violin may need to restring its product instrument.
Funding
Israeli-based OwnBackup has raised $15.5m in a third funding round since it was founded in 2012. The money came from new investor Vertex Ventures and existing investors Insight Venture Partners, Innovation Endeavors, Oryzn Capital and Salesforce Ventures. The second round was in July 2017 so things are moving fast. OwnBackup says it has deepened its investment in the Salesforce community, and added strategic partnerships with Sage and Veeva.
Its product protects cloud data, "securing trillions of SaaS/PaaS records every day", and is built on the Salesforce Platform. It's available on the Salesforce AppExchange. The funding will drive continued product innovation and support recruiting efforts to double its team in the United States and Israel before the end of the year.
UK-based Storage Made Easy raised £3m to help grow sales in Europe. It wasn't raised through a VC. Instead the SME raised the money via a global alternative asset manager and entrepreneurs in the London insurance industry.
More exec moves
Cohesity has hired execs in the EMEA territory. Johannes Kunz is senior director channel sales EMEA, Thomas Boele is senior director systems engineering EMEA, and Claudia Zieschang as head of EMEA field marketing. All three have come from HPE-acquired SimpliVity and will work with Klaus Seidl, VP sales EMEA at Cohesity.
George Teixeira has relinquished his DataCore CEO role to become executive chairman. Dave Zabrowski has been recruited as the new CEO, being previously a founder and ex-CEO of Cloud Cruiser. Gerardo Dada becomes the Chief Marketing Officer and he was at SolarWinds before that.
Ironically Carrie Reber, who was DataCore's VP for worldwide Marketing, left in December 2017 and joined – wait for it – SolarWinds.
VP Sales and Business Development Naseem Rochette left startup Vexata in January. Charlie Leeming became Vexata's Chief Sales Officer in March, by way of Ampool where he was COO and SVP Business Development, and Brocade where he was a 10-year vet and had sales VP and GM responsibilities.
Short items
Acronis and the Sahara Force India Formula 1 team have a data protection technology partnership, in which Acronis will provide backup, disaster recovery, software-defined storage, file sync and share, and artificial intelligence-based ransomware protection to the team's factory, wind tunnel, and trackside IT infrastructure. The mission control room at the team's factory in Silverstone, UK, will be named the "Acronis Mission Control Centre". Acronis also partners with Renault Sport Racing in the FIA Formula E race series.
Filer software startup Elastifile has announced its availability on Google Cloud Launcher, providing customers with the ability to deploy scalable, enterprise-grade, high-performance NFS file services on Google Cloud Platform with just a few clicks.
A three-year TCO study by ESG says service providers offering storage-as-a-service using Kaminario's flash array-based Cloud Fabric pay $0.0387/GB/month, 64 per cent less than public cloud services such as AWS. ESG looked at cost of storage capacity, maintenance and support, power and cooling, and storage administration. Get a copy of its report here.
Overland-Tandberg says two configurations of its RDX removable storage product line have been tested and confirmed by VMware to be supported by USB devices when attached to production ESX/ESXi hosts and virtual machines.
Hyperconverged system vendor Pivot3 has announced Pivot3 Cloud Edition on AWS. It enables customers to use AWS for backup and disaster recovery by using functionality in Pivot3's policy-based management for data protection. An orchestration feature manages replication jobs based on service level priorities and simple data protection policies. Cloud Edition runs in AWS as an Amazon Machine Image and is optimised to orchestrate replication of data from on-premises HCI to AWS.
ProphetStor said Dell EMC VxRail was using its DiskProphet product. Dell said there's no agreement with ProphetStor over this. ProphetStor is not answering queries. Odd.
ProphetStor also has a a strategic alliance with Peering One, an enterprise cloud provider in APAC, to integrate its StellarFlash in Peering One's Storage-as-a-Service (STaaS) business model.
Qumulo announced, or rather, re-announced its all-flash P-series scale-out filer, saying this was the GA announcement whereas last November's announcement was of the product entering beta test.
Zadara, a provider of enterprise-class storage-as-a-service (STaaS), has expanded the availability of its VPSA Storage Array service for Amazon Web Services (AWS) and Equinix customers to the AWS EU (Paris) Region. This is the fourth European AWS Region in which Zadara VPSA services are available; the others being, AWS EU (London), AWS EU (Frankfurt), and AWS EU (Ireland) Regions. The AWS EU (Paris) Region is Zadara's 14th AWS Region worldwide and is enabled through a value-added relationship with Equinix.
Zstor GmbH has launched its GS-Cube8. This is a mini-format, home NAS-style server with two clustered nodes connected by 25GbitE. Zstor says it's a full-blown Storage Spaces Direct hyperconverged cluster certified for Windows Server 2016. All hyperconverged features of Microsoft Windows Server 2016, such as Hyper-V virtualization, RDMA Networking and Storage Spaces Direct can be executed. ®