This article is more than 1 year old
Apple store besieged by protesters in Paris 'die-in' over tax avoidance
Furious Francs flay fruit-phone flinger for financial finagling in false fatality fracas
A French group opposed to Apple's tax maneuvering in Europe took to the company's stores this weekend in a public protest.
Attac France travelled to Apple Stores in Paris and Aix-en-Provence Saturday to hold a "die-in" protest against the Cupertino iPad seller and its cunning schemes to divert taxes away from the French government and into tax havens.
The anti-globalization group says the protest is over Apple's refusal to pay its fair share of local taxes in France. To get their point across, Attac members laid down in and around the stores to symbolize what they say are the 67 million French citizens who get shafted by Apple not paying taxes in the country.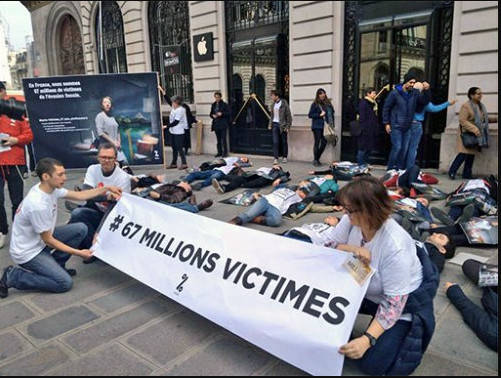 Protesters play dead in front of an Apple Store
The group wants the French government to collect what it believes to be anywhere from €60bn-€80bn in taxes Apple and other large companies evade paying every year.
Just a refresher: last year, Apple was found by the EU Court of Justice to have stiffed the Union to the tune of €13bn by taking advantage of Ireland's friendly corporate tax laws - since deemed illegal.
This is not the first time Attac has taken its ire out on Apple's French retail fronts. Last December, the same Paris store was the scene of a similar protest where Attac members occupied the store for several hours to voice their grievances with Cook and Co's accounting practices.
Meanwhile, in California
As Apple's ugly licensing battle with Qualcomm over royalty payments is showing no signs of letting up, it now looks like CEO Tim Cook will have to face questions.
The two sides agreed late last week (PDF) to set June 27th as the date for Cook's deposition in the case. The CEO will, presumably, give his side of Apple's argument that Qualcomm is gouging Apple and others on royalty payments for its chip designs, and justify Apple's decision to withhold payments as a result. ®