After the Feds swooped on the Backpage.com website on Friday, they promised to outline why. Now on Monday, they have unsealed a 93-count indictment of seven of the dot-com's staff and investors, as well as seizing the domain name.
Backpage carried classifieds for things like jobs and cars as well as adverts for people of negotiable affection. It has been a constant thorn in the side of the US Department of Justice, which has repeatedly accused the website of aiding prostitution and human trafficking, particularly of children.
On Friday, the g-men swooped, and nabbed the chief executive, the chief financial officer, marketing director, the operations manager and his deputy, as well as others who had invested in the website. They now face 93 charges ranging from conspiracy and money laundering to facilitating prostitution.
According to prosecutors, the seven people charged are: Michael Lacey, 69, of Paradise Valley, Arizona; James Larkin, 68, of Paradise Valley, Arizona; Scott Spear, 67, of Scottsdale, Arizona; John E. "Jed" Brunst, 66, of Phoenix, Arizona; Daniel Hyer, 49, of Dallas, Texas; Andrew Padilla, 45, of Plano, Texas; and Jaala Joye Vaught, 37, of Addison, Texas.
"For far too long, Backpage.com existed as the dominant marketplace for illicit commercial sex, a place where sex traffickers frequently advertised children and adults alike," said Attorney General Jeff Sessions.
"But this illegality stops right now. We have put an end to the violence, abuse, and heartache that has been perpetrated using this site, and we have taken a major step toward keeping women and children across America safe."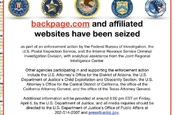 Hookup classifieds ad sheet Backpage.com seized in Feds shutdown
READ MORE
According to the indictment [PDF], Backpage was warned repeatedly that it was carrying adverts prostituting underage girls. When an anti-trafficking organization suggested the dot-com display a warning box if perverts specifically searched for children, the company turned down the idea, saying "it has little PR value."
The money-laundering allegations stem from the site's financial management. After major credit-card companies blockaded Backpage in 2015, the indictment claims the group accepted money orders and checks made out to other organizations from its customers. Management is also accused of moving money offshore to spare it from confiscation.
"This website will no longer serve as a platform for human traffickers to thrive, and those who were complicit in its use to exploit human beings for monetary gain will be held accountable for their heinous actions," said FBI Director Christopher Wray.
"Whether on the street or on the Internet, sex trafficking will not be tolerated. Together with our law enforcement partners, the FBI will continue to vigorously combat this activity and protect those who are victimized." ®