'Our way or the highway' warranty scams shot down by US watchdog: It's OK to use unofficial parts to repair your gear
Warns six major companies, refuses to name names
America's Federal Trade Commission has told "six major companies" to cut it out when it comes to trying to force consumers to only use their replacement parts for repairs.
The regulator has refused to name the companies that claim a product's warranty is voided if consumers don't use their special parts but did reveal that they work in the automobile, mobile phone and video gaming markets.
One of them is almost certainly Apple, which has come under fire recently for trying to insist that customers only use (over-priced) Apple screens on their iPhones.
The FTC scoured the websites of an unknown number of companies for their warranties and reported that its staff "saw language that raised concerns that some businesses were telling consumers that their warranty would be void if they used unauthorized parts or service."
The language varied widely but the message was the same: if you don't use our parts then your warranty not longer applies.
There's only one problem: that approach is illegal under the Magnuson-Moss Warranty Act, a law passed back in 1975 to cover consumer products. The FTC also warns that such statements could be seen as "deceptive" under its own FTC Act.
Unless a company provides the part or service for free, or specifically applies to the FTC for an exemption, then it is not allowed to tie a warranty to its parts, no matter how much it wants to.
Guess who's up to things?
Apple in particular is notorious for its efforts to force people to use only its replacement parts and accessories – products that have often come with a huge additional mark-up.
Most recently, the company came under fire when, in October, it included a warning with its latest operating system update that customers shouldn't use anyone but Apple and Apple parts to fix their phone. "Note: Non-genuine replacement displays may have compromised visual quality and may fail to work correctly. Apple-certified screen repairs are performed by trusted experts who use genuine Apple parts," it read.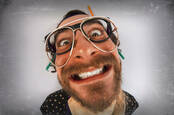 Ever wondered why tech products fail so frequently? No, me neither
READ MORE
The warning came after some third-party screens stopped working when the phone was updated to iOS 11.
But that apparent policy was then reversed in February when a memo was sent to all Apple stories and "Apple Authorized Service Providers" – repair shops that pay Apple for the privilege of only being allowed to use Apple parts – asking repairers to keep an eye for any "tampering" but to repair the product regardless of what they find.
Then, just this week, consumers started complaining again that their third-party screens had stopped working with the latest 11.3 update.
Money talks
The price difference between third-parties and Apple-authorized repair shops varies from 20 per cent, all the way up to 100 per cent. New iPhones come with one year's free warranty but after that you need to buy extended coverage that costs between $129 and $199. Even with that, screen repairs cost $29 and are limited to two repairs.
Outside of that warranty, the cost of a new screen varies on the model from $129 to $279. By contrast, third parties using good quality materials will charge between $89 and $129 for the same service. You can find shops using cheaper materials that will offer to repair a screen for $50 or less.
And, of course, Apple has some history when it comes to producing its own sub-standard screens.
In short, Apple makes a lot of money from people using only its parts and only its repair services – in much the same way you typically pay a premium to take your car to an official repair shop for your make of vehicle. The idea is that you will get a guaranteed higher level of quality and avoid the potential risk of a shady repair shop.
In reality of course there are many repair shops that will do as good a job as an official outlet for a much lower price. But there are also repair shops that will take shortcuts and can end up costing you money.
All of which is capitalism at work – which is why it is protected under the law. Something that the FTC has felt the need to remind several large corporations this week. It has given each company 30 days to "correct any potential violations" or it will take legal action against them. ®