This article is more than 1 year old
UK.gov expected to quit controversial harvesting of schoolchildren's nationality data
Campaigners say Home Office trove must also be purged
Campaigners have welcomed reports that the UK government is planning to cease monitoring pupils' nationality in its mass school data slurp.
The school census, a statutory survey that takes place three times a year, collects a range of information about students, including country of origin and nationality.
Civil rights and privacy groups have campaigned against this data collection since it was slipped into the reporting rules in 2016, especially after revelations that the data had been used in immigration enforcement.
Now the groups are claiming a victory as sector publication Schools Week reported that the Department for Education is expected to write to schools outlining plans to remove the two controversial categories from the census this year.
The letters, expected "in the coming weeks", will tell schools they will not be asked to collect the information as part of the summer census, which is due on 17 May.
"This news is a massive victory for a small group of activists with no budget and no staff: just a determination that our schools should be a safe learning environment for every child," said Alan Munroe, a primary school teacher and spokesperson for the grassroots group Against Borders for Children.
His group was set up about 18 months ago and, represented by Liberty, has challenged the collection in court, having recently launched an appeal against a High Court ruling refusing them the right to take the case to a judicial review.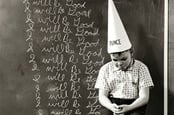 Blighty's National Pupil Database has been used to control immigration
READ MORE
Gracie Bradley, advocacy officer for Liberty, described the move as a "huge victory" for the people who had pushed the campaign, while Jen Persson, coordinator at privacy group Defend Digital Me, said she was "delighted this divisive and damaging policy will be scrapped".
The next step, Persson said, was that data gathered under the policy "must be destroyed" – and all three campaigners pointed to the sharing of pupil records with the Home Office as evidence that there was more work to be done.
"There is still some unfinished business," said Munroe. "The data which has already been collected must be deleted, and the DfE must stop sharing children's addresses with Home Office enforcement teams."
Bradley also noted there was a hotly debated exemption (PDF) in the Data Protection Bill – currently making its way through Parliament – that would remove a person's rights as a data subject if satisfying them prejudiced "effective immigration control".
"The government freely admits that it will use the immigration exemption in the Data Protection Bill to help the Home Office access yet more school records for immigration enforcement. Until undocumented people are able to access vital frontline services without fear of being shopped to the Home Office, there will still be children in the UK robbed of their right to an education and worse."
Her concerns echo those of activists lobbying against the deal that allows NHS Digital to share non-clinical information on patients with the Home Office for immigration enforcement.
The government is under pressure from activists and MPs on the health committee to scrap the deal, which they say could drive people away from crucial services and damage doctor-patient trust.
The Department for Education refused to comment. ®