Airbus plans beds in passenger plane cargo holds
Small problem: world faces big shortages of air freight capacity
Poll Airbus has revealed a plan to put beds in passenger planes' cargo holds.
The company has teamed with an outfit named Zodiac Aerospace that already tucks crew rest quarters away in the bowels of planes.
The two think they can deliver "lower-deck modules with passenger sleeping berths" and say airlines with which they've discussed the idea offered "very positive feedback".
The idea is to create something that airlines can offer to distinguish themselves and therefore sell more seats and/or more high-margin fares.
Airbus' announcement says it'll have "certified solutions" ready to fly on the A330 by the year 2020 and is considering sleepers for the A350WXB as well.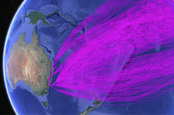 Reg hack survives world's longest commercial flight
READ MORE
Your correspondent will, however, be mighty surprised if this idea flies, by 2020 or ever.
For starters, there's safety issues to consider: it would be no small task to evacuate passengers from below decks, so winning certification for these sleep pods may be tricky. As plane seats are always returned to the upright position before landing, The Register cannot imagine that beds would be used during that phase of flight. So airlines would need to also provide seats for passengers.
Then there's the fact that plane-makers and airlines alike just love to tease travellers with tales of luxuries in the sky. During the pre-build period for the A380, Airbus suggested the plane was so large that bars, barber shops and even gyms might be available to passengers. Emirates and Etihad have built showers into the A380, but other luxuries haven't emerged.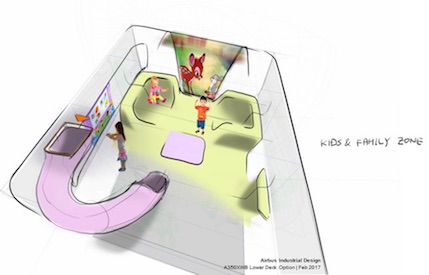 If this idea of a flying kids' zone happens, your correspondent will be mighty surprised. Click to enlarge
This may also be a solution in search of a problem. Lie-flat beds in first and business class are pretty damn fine – or so I'm told by those who fly in them! Just how bunks in a windowless, low-ceilinged cargo hold are an improvement is not obvious.
Consider, also that the International Air Transport Association (IATA) says airfreight is booming. The Associations' 2018 most recent analysis found that demand for airfreight grew at double the rate of capacity in 2017. That trend is expected to climb in coming years.
Perhaps beds in the sky will afford better margins than freight. But as lots of freight capacity is pre-sold, it gives passenger airlines an uncomplicated revenue source. Whether carriers would gamble on the seasonal fluctuations of the passenger trade compared to steadier cargo cash is one for accountants to consider.
And for you, in this poll!
®