How do you get drones talking to air traffic controllers? Pretty easily, says Brit startup
Altitude Angel founder talks to El Reg
Interview Drone flight management app Altitude Angel is quietly cornering the challenging market in connecting drone traffic management to traditional air traffic control systems, its founder has told The Register.
The startup aims to bridge the gap between unmanned traffic management (UTM, the art of stopping drones from colliding with each other or real aeroplanes) and proper air traffic control systems – also known as air traffic management (ATM).
Founder Richard Parker told The Reg that the company's partnership with UK ATC provider NATS is all about "creating the necessary technical software if you like, and the interfaces, rather, that enable the UTM interfaces to connect into existing ATM infrastructure".
"If you are a drone operator in the UK and you want to fly in controlled airspace, today you will have to file a non-standard flight request with NATS," said Parker. "It's a paper-based process, it takes quite a long time."
The problem drone operators encounter with traditional ATM systems is that they simply aren't set up to approve large numbers of short-notice flights around areas that would otherwise be tricky for traditional manned aircraft. Air traffic controllers can't simply contact drone operators: unlike manned aircraft, they don't have pilots aboard who are listening to air traffic control's VHF frequencies.
Altitude Angel has integrated itself with NATS' systems to convert the JSON format used by common flight planning apps into the older formats used by air navigation service providers. As Parker said:
"You can have this 20-year-old aviation-based system speaking this ICAO [International Civil Aviation Organisation] flight plan format into the backend of Altitude Angel and what pops out is ultra-modern GeoJSON... You submit your flight plan back via GeoJSON, it comes into Altitude Angel [which] looks at it, says 'Where does this need to go? Oh right, that's going to the UK, I can talk this particular format to the UK'."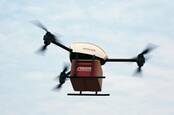 Vodafone's drone tracker system intrigues but stays short on detail
READ MORE
Altitude Angel has also partnered with Frequentis, a maker of air traffic control headset switches, to connect details of drone operators' flight plans to air traffic controllers' systems and headsets. This is a much bigger deal than it sounds ("it's going to sound like we've invented fire," joked Parker) because, for the first time, controllers don't need to look up the drone operator's actual flight plan and then pick up a phone and dial the contact number if something looks like it's going wrong (say, the drone strays outside its authorised area or height). The controller simply flicks his headset's voice communication switch to talk to the drone operator directly. In a time-critical situation, as air traffic management always is, speeding up that contact process matters.
"In other words, you've now got an air traffic controller, who is using their existing hardware, being able to review the details of a planned drone flight in a sector of airspace that they look after," said Parker. He added that due to regulatory rules, they couldn't just "have a laptop running in the control centre at NATS" because of the requirement for expensive certification and training on any new equipment, however mundane.
"I was surprised at this but it can take years to retrain all of your controller staff, to design the processes, to get them regulated, to get them approved."
Yet, in spite of seizing this rather fundamental part of the UTM market, Parker is keen to emphasise that Altitude Angel isn't shutting out competitors. "You can have a non-monopolistic view of the world... but at some point, someone has to be able to orchestrate everything. We think it shouldn't be a private company like Altitude Angel that gets to do that.
"What you need from a [UTM] system, as a government, is that you can deploy, it can have a bunch of open standards and technical protocols, a bunch of capabilities like information dissemination and collection from users, it all happens in a standardised way. But you enable a market, of competition. You can have a hundred UTM providers providing a navigation service but eventually the ANSP who has overall responsibility for the safety of airspace, they need one picture of everything that's happening and they need one way to get in touch if there's a problem."
As well as drones, NATS has also adopted Altitude Angel as its provider of general aviation (light aircraft, like your rich uncle's four-seat Cessna) flight planning services, and its non-standard flight planning application page (aup.nats.aero) will go live for the whole of the UK later this year.
In terms of successful British tech startups, Altitude Angel has come a long way – even in the last year alone, when drone operators were reacting with horror to some of its longer-term ideas about drone traffic management. It has very obviously got the confidence of NATS and of the Civil Aviation Authority – which, while not the automatic approval of wider industry, certainly bodes well for its future. ®