Get the FTP outta here, says Firefox
Apparently someone still uses src to suck content into web pages from FTP servers
Mozilla developers have decided to block requests for File Transfer Protocol (FTP) subresources inside web pages.
A bug report and Intent to implement notice suggest the change will land in Firefox 61. The browser's currently at version 59, with 61 due in May 2018.
The change will permit access to FTP resources in hyperlinks or when an FTP server's address is entered into Firefox's address bar, but the browser will no longer allow FTP resources to be summoned using the HTML src attribute.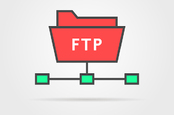 FTP becoming Forgotten Transfer Protocol as Debian turns it off
READ MORE
Firefox will also block loads from FTP servers in iFrames.
Firefox developers have probably made the change for the same reasons Chrome's coders offered when Google's browser started labelling FTP sites as insecure last year, namely that FTP sends data as plaintext and just wasn't designed for the modern web. Indeed, the protocol predated the web by more than 15 years.
Few will mourn or notice FTP's deprecation inside Firefox and the protocol is now considered so marginal that even greybeard bastions like Linux download services have stopped offering it as an option.®