Snubbed R Us: Microsoft eschews Vulture Consultants in Playmobil tech research
MS 'toy lovers' create sensor mat with NFC-tagged thesps
---
Despite a failure to consult Reg Playmobil academia, Microsoft Research has unleashed new toy findings: a playmat for little ones that combines capacitive sensing, Near Field Communication (NFC), a kid-friendly user interface and Playmobil.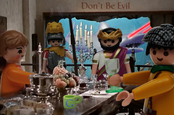 Revealed: Google's SECRET London office
READ MORE
In Project Zanzibar, objects (Playmobil toys and some big-headed dolls we couldn't identify*) with unique NFC tags are placed on the rollable mat, and then appear in scenarios on the screen, replete with animation and story-telling.
As the objects are moved on the mat, so they move on the screen, with the mat sensitive enough to detect when items have been stacked (for example, a knight climbing a castle.)
The prototype tech is designed to be self-contained, with all sensing and processing occurring in the mat itself and then passed to a device connected by USB or Bluetooth. The mat is able to detect multiple objects up to three cm above the mat and understand gestures such as swiping as a child moves figures around.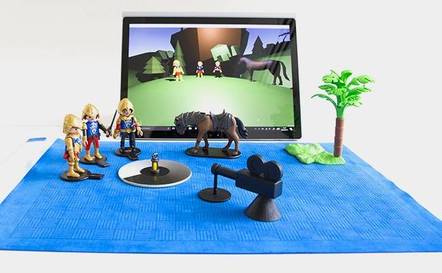 Tsk, tsk: There's not much drama in that diorama. Pic: Microsoft
What was the motivation? Over to Microsoft:
It was a love of toys, a shared appreciation for the intrinsic beauty of physical objects and a recognition of their absence in the daily computer interactions of a world that currently spends most of its time gazing at and touching two-dimensional glass that propelled a team of Microsoft researchers in Cambridge, UK and Redmond, WA to embark on a quest to blur the divide between the digital and physical worlds.
* Big-headed dolls at 01:20 - any ideas? Let us know in the comments
* Big-headed dolls are at 01:20 - any ideas? Let us know in the comments
The boffins are actually keen to emphasise the educational play aspect of the device, although parents might wonder if this is really all that different from a child prodding a glass screen in terms of imagination, with the computer doing the work of making the figures come alive rather than the child's own mind.
Those searching for new and exciting ways of squeezing money out of parents will doubtless be looking at the concept with interest, hoping to recreate the initial magic of the Skylanders collectables (rather than the failure of Disney's Infinity.) ®
Bootnote
El Reg is more than slightly disappointed Microsoft didn't bring us on-side in this project: we've amassed years of expertise in the use of plastic people to recreate real world drama. It's a small, rude world after all for Reg hacks, and our wonderfully creative colleague Lester Haines spent a lot of time putting the "I.... O?" in drama to make his wonderful techie and "Where's the IT angle?" news dioramas (amongst his pieces on LOHAN, Vulture 1, post-pub food and other projects). His finest Playmobil moments are here.)