This article is more than 1 year old
Moneybags VCs look to the stars – and spaff a billion on space tech
Some bloke called Elon slurped $500m of it
It's been a bumper few months for the commercial space industry with the torrent of cash from starry-eyed investors showing no signs of slowing, according to investment outfit, Space Angels.
Nearly $1bn was handed to private space racers in the first quarter of 2018 - $975,799,660 to be precise. In a shock to nobody, a man named Elon Musk slurped more than half of that total cash pile with $500m from Fidelity Investments to develop Space X's satellite communications network, Starlink, amongst other things.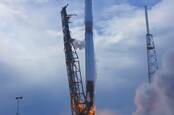 Elon Musk's mighty erection fires sperm at orbiting space station
READ MORE
Twenty more Series B and C deals were also signed in the opening quarter of the year.
Satellite communications business, Global Eagle was a distant second in the investment stakes, scoring $150 million from UK-registered Searchlight Capital and tying with Spaceflight Inc., who intend to spend the cash expanding their launch management business and earth imaging satellite constellation (which goes by the not-at-all-creepy name Black Sky.)
Investment in commercial space has grown impressively over the last few years, with $7bn emptied into new-space companies since 2009. 60 per cent of those funds found their way to the US, but a healthy 19 and 10 percent went to the UK and France respectively.
Some 72 per cent of the investment has gone up the nozzles of launchers thanks to the continued high cost of leaving the surface of the planet. The investment boffins noted, however, that even with the advent of reusable boosters from SpaceX (and whatever savings may come from them), the move to heavy lift rockets will create a profitable opening for small launchers capable of lobbing lighter satellites into orbit.
Rocket Lab's Electron made it to orbit in January, and is able to leave anything from 150 kg to 225 kg circling above the earth and secretive Almeda-based Astra Space's Rocket 1 can loft 100kg.
The remainder of the cash was invested on six outfits including Relativity Space, SupremeSAT and Astranis.
Investors that might be put off by the oft repeated joke "How do you make a small fortune in the space business? Start with a large one…" may be reassured somewhat by March's $1 billion purchase of space vehicle materials manufacturer Tencate by Japan-based Toray Industries. ®